Interview with "Dangerous" Dana Rosenblatt
By Ed Ludwig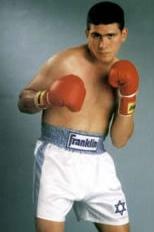 16.01 - This evening I had the pleasure of speaking with Super Middleweight contender "Dangerous" Dana Rosenblatt (37-1 23 KO's). Dana is set to make his return to the ring on March 22nd against an opponent to be announced. He last fought in October 2000 when he defeated Will McIntyre and since then he has been recovering from injuries to both of his shoulders. Dana has had to endure many months of rehabilitation and now he will be making his long awaited return that many boxing fans are looking forward to. I would like to thank him for his time.
Ed Ludwig: You last fought in October of 2000 when you defeated Will McIntyre. Was your inactivity a result of an injury?
Dana Rosenblatt: I tore my rotator cuff on my right shoulder. I was in rehab and resumed my training. Then I separated my left shoulder and the doctor said that I had a torn labrum and that resulted in me having surgery. I had to miss all of 2001 but my rehab has gone well and so has my training. I could not lift much weight during that time but now I am in good condition and my weight is 175 lbs.
EL: Have you been training on a regular basis during your time off?
DR: I have been in therapy since the end of February 2001 and I have been running everyday and I am doing well. I have stayed in shape.
EL: It is being reported that you will face the winner of the upcoming Eric Lucas vs. Vinny Paz WBC Super Middleweight title fight, is that true?
DR: It looks that way. Things change rapidly in boxing but I am getting ready for Eric Lucas.
EL: The last three opponents you have faced, Vinny Paz, James Crawford and Will McIntyre have had, or will receive a title shot, your thoughts on this?
DR: It's ironic that they got title shots after I fought them. I beat Paz and McIntyre and I had a technical draw against Crawford. My time will come and I will be ready.
EL: Once in awhile we hear Paz call you out for a rubber match. Are there some bitter feelings between the two of you?
DR: He may have bitter feelings. I love the guy. He fills my pockets full of money. I would not hang out with him. He can do what he wants.
EL: Prior to his loss to Thomas Tate, Omar Sheika is another fighter who has called you out. Would you consider him as a future opponent?
DR: Absolutely. I have had phone calls from his people but no solid offers. If we could agree to financial terms then it would happen. He never got back to us.
EL: Will ring rust be a problem when you resume boxing?
DR: I am not going to be naïve. I have to keep that in mind and work hard in the gym.
EL: Is there anyone in particular that you would like to meet in the ring?
DR: No, no one in particular. I don't like the stuff Sheika says. Maybe him. I wanted to fight Bernard Hopkins then Don King came up with the tournament and it fell through. I would like to fight Hopkins at 168.
EL: If you could not get the fight you wanted, would you consider moving down to 160 or up to 175?
DR: I have no problem with staying at 168. I had to work very hard when I was at 160 and I could not move down. I will stay here.
EL: Who was your toughest opponent to date?
DR: I would say Brett Lally and Troy Watson. Terry Norris was pretty easy until the end when I was very dehydrated. Paz was very tough too. I think Eric Lucas will stop him in four rounds or less. Had Dingaan Thobela beat Lucas then I would have had the title shot.
EL: Of the current Super Middleweight champions, Sven Ottke, Eric Lucas, Byron Mitchell and Joe Calzaghe, who do you think is the best?
DR: I'd say Sven Ottke, for two reasons. First, he is a solid and very sound boxer and reason number two, he never fights outside of Germany.
EL: Why was Anthony Mundine granted a title shot vs. Sven Ottke after ten wins against limited opposition?
DR: Well, it's all about the money. Television rights in Germany and Australia are huge. The promoters made a lot of money. The comments made by Anthony Mundine in regards to the terrorist attacks were horrible. My thoughts on him are as follows, "Lighthouse on the shores of ignorance"
EL: If you were to challenge Lucas, Ottke or Calzaghe in their home countries do you believe that you would get a fair shake if it went to the scorecards?
DR: Absolutely not. My best shot would be against Lucas in Canada. In England or Germany, not a chance.
EL: What was your pick for Fight Of The Year in 2001?
DR: I would say Bernard Hopkins vs. Felix Trinidad in terms of significance. I knew Hopkins would win. The Rosenblatt synopsis, the boxer was the bigger guy and not the puncher. The puncher was the smaller guy. I went with Hopkins all the way.
EL: You have a black belt in Karate, a brown belt in Judo and you are a former U.S. amateur Kickboxing champion. Why did you choose boxing as your profession?
DR: There was no future in Kickboxing. I defeated the French National champion and when I came back from the tournament in France I went pro and I made fifty dollars in each of my two fights. After that I decided to turn to boxing.
EL: At what age did you start competing in individual sports?
DR: I started Karate when I was thirteen and I had my black belt when I was sixteen and then I took up Judo at sixteen. I like competitive sports.
EL: Was it hard for your family to watch you compete when you were growing up?
DR: Not with Karate and Kickboxing. As for boxing today my wife and parents don't like it but they are very supportive. They would rather see me do something else.
EL: What are your plans when you retire from boxing?
DR: I recently got into the mortgage business. I will continue to do that and also do a lot of public speaking at kid's camps and at schools. My fight this March will be broadcast on Fox Sports New England and after that I will be broadcasting for them on a regular basis. I have worked for Direct TV in the past and I plan to concentrate on broadcasting.
EL: Is there anything you would like to say to your fans?
DR: I really appreciate all of the support from my fans during my fights and with my broken hand in 1997 and with the shoulder injuries. The boxing business is dirty and nasty but the fans make it worthwhile.
For more information on Dana please visit www.danarosenblatt.com