Antonio Margarito KOs Kermit Cintron For A Second Time!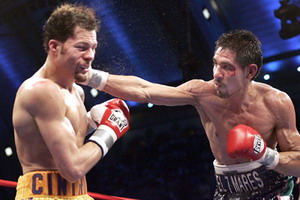 By James Slater, photo by Chris Farina - TopRank - Last night's rematch between Kermit Cintron and the only man to ever beat him in Antonio Margarito did not disappoint. A quite incredible battle saw the Mexican tough guy (an understatement) finish off the brave Cintron with a wicked left to the body in round number 6. The time was 1 minute and 57 seconds, and Margariro is now the new IBF welterweight king.

Both men came right out at the opening bell and went to war. This was not a fight for the purists, but, wow, was it great to see. Cintron, one of the hardest punchers in boxing, teed off on the rock-hard head of Margarito in this round, rights in particular exploding on the Mexican. But, as before, Margarito went nowhere. The noise of the crowd was deafening, and a savage shootout was well underway..

In round 2, the action reached Hagler-Hearns proportions. Margarito looked the boss for me here, and the brutality was beginning to mount - for Cintron mostly. Some really solid body shots thudded home for Margarito, who also picked up a small cut over his left eye - probably from a clash of heads.

The 3rd saw more great two-way action, but it appeared as though Margarito, though he was taking some killer shots, was gaining the advantage. As bombs were flying and mostly landing from both warriors, Cintron complained to the referee Earl Brown about rabbit punches and left himself open. Was this a first sign of the fight having got to him mentally?

In the 4th, Margarito was definitely getting on top. He'd taken Cintron's best shots - amazingly without even blinking! - and he was grinding his man down now. Cintron was looking marked up now, with swelling forming around his right eye.

Cintron let go with some more bombs in the 5th, and again the amazing warrior from Mexico took them all. The pace was gruelling and all of a sudden Cintron looked really busted up - a bad cut pouring blood over his damaged right eye. Under heavy pressure, Cintron bent over to escape from the onslaught - a tactic he'd been employing tonight - and referee Brown warned Margarito for hitting the back of Cintron's head. The Mexican looked furious, but won the round for me. Cintron had definitely been badly hurt and the ending seemed to be closing in for him.

Sure enough, the end came in round 6. Cintron tried to box, but Margarito soon had him hurt again and stuck on the ropes. Then, with his man trapped, Margarito struck with a savage left to Kermit's midsection and down he went. Badly hurt, he had no chance of beating the count. The fight was over and once again Antonio Margarito had proven too tough, too resilient and just too damn hard-headed for Kermit Cintron.

King Tony is back atop the boxing world, and improves to 36-5(26). While the beaten up Cintron, who looked devastated by the loss, falls to 29-2(27). Both men deserve enormous credit for the thrilling fight they gave us. This was one of the best slugfests seen in quite a while!
---
Margarito crushes Cintron!
By Mike Indri, Retired Boxers Foundation - Kermit Cintron was defending his International Boxing Federation welterweight world championship title, but even more importantly he was defending his legitimacy and honor against former champion Antonio Margarito.

Back in 2005 Cintron, then the hot 24-0 undefeated prospect was rushed into challenging the dangerous Mexican fighter, who was defending his World Boxing Organization belt. Cintron was not ready for the big step and paid dearly with a torturous beating which resulted in his first loss - a crushing fifth round TKO drubing, which hurt just as much, if not more, mentally as it did physically.

Tonight Cintron was a much better fighter then he was on that never-to-be forgotten April night in Las Vegas (04/23/2005), but he still was not ready for Antonio Margarito.
While appearing ferocious as he entered the ring and surprisingly calm once the bell rang, it was soon apparent that Cintron still had no answer for Margarito's power and resilience.

Nothing but credit though can be given to Cintron as he went toe-to-toe, and gave as much as he got for as long as this savage battle was to last.

After a good first round Cintron had his head snapped back by several Margarito uppercuts in round two and the message was sent. While tagging Margarito often, he never did hurt the California resident while Cintron was obviously affected by the pop in Margarito's punches.

While both fighter's only defense is there offense, and this approach provided for an action packed dream of a fight, it was not a good move for the soon to be ex-champion. As Margarito, bleeding over his left eye since a round two headbutt, landed an average of 34 power shots a round, and out-totaled Cintron 207-89 in the bomb department (according to Compu-Box), Cintron must be applauded as he went out as a true champion.

Totally beaten by the end of round five, Cintron hurting and desperate came out in round six and proudly fought to defend his title. Absorbing much punishment, a big Margarito right to the head followed by a Micky Ward-like left hook to the body sent a crippled Cintron to the canvas where he would not be able to get up and was counted out by referee Earl Brown at 1:56 of round six.
Cintron, now 29-2 (27 KO's) and always a champion, suffers only his second professional loss (both at the hands of Margarito), while the A level Margarito (36-5 with 26 KO's) becomes a two-time world champion and seems to be headed to a mega fight against Miguel Cotto this July.

On the Top Rank Boxing promoted undercard:

Paterson native Richard Pierson and Puerto Rican Angel David Gonzalez opened the show with a six round middleweight slugfest. Using his superior reach, Pierson pounded Gonzalez early and looked impressive using both hands and stinging his foe with several bristling uppercuts. The resilient Gonzalez reached down and took advantage of Pierson's bad habit of dropping his hands, catching the talented Pierson too often and making for an extremely exciting fight

Pierson, best known as the main sparring partner for middleweight champion Kelly Pavlik, has the skills and is a real prospect.

Judges Luis Rivera and Joe Pasquale had it for Pierson 59-56, while Judge John Stewart somehow scored it 59-55 for Gonzalez.

While the split decision victory Pierson improves to 7-1 (4 KO's), while the gutsy Gonzalez slips to 6-5-1, 3 KO's).

Slick featherweight Luis Cruz withstood some early power from Olvin Mejia and effectively broke down the knockout-minded Mexican fighter, who missed much more than he hit after the first three minutes. Cruz, boxing much more relaxed and seasoned than a young fighter in his fifth pro bout, hurt his stronger opponent in round three and out-boxed Mejia over the six rounds, earning the smartly fought unanimous decision, as all three judges scored it 58-56 for the still undefeated (5-0, 3 KO's) Las Piedras, P.R. resident. Mejia fell to 3-2-1 (3 KO's).

Highly touted middleweight Ronny Vargas, fighting out of the Bronx, looked good for the short while his scheduled six round bout lasted. Displaying a crisp jab and solid right hand the former amateur standout beat up on his overmatched opponent, fellow New Yorker Roberto Irrizarry, before the corner threw in the towel at the 2:51 mark of the third round. The technical knockout win pushed the Venezuelan to 5-0 (4 KO's), while the light hitting Irrizarry is now 2-4.

In a four round super middleweight bout Omar Coffi, making his pro debut, survived with a draw against Houston, Texan Don Mouton, who appeared to be the busier and more effective fighter.
Judge John Stewart scored it 40-36 for Mouton, now 3-2-1 (3 KO's), while Joe Pasquale had it 39-37 for Coffi, who now calls New Hampshire home, and Luis Rivera saw it even, 38-38.

Star-in-the-making Jesus Rojas continued his destructive ascent in the super bantamweight division as the prospect with dynamite in his gloves crushed the game Andres Ledesma, forcing referee David Fields to save the nearly unconscious Colombian at the 2:14 mark of round four. Finding his mark late in the second round, the mighty Rojas hurt the Cartagena native often and took command of the scheduled eight round contest.

Driving his banged up opponent onto the ropes midway through round four, Rojas unleashed a brutal barrage that forced the damaged Ledesma, now 14-9-1 (9 KO's), to crumble to the canvas. As a true fighter, Ledesma rose to his feet and continued; only to be met by more punishment from the heavy, as well as fast-handed Caguas, P.R. native, until referee Fields wisely halted the action.
The good-looking bona-fide prospect remains undefeated, 11-0 with 9 knockouts

Recently retired NJ boxing legend Arturo Gatti on hand for the championship boxing only added to an already spectacular night.

Local boxing fans have a lot to cheer about as Omar Sheika gets back in action vs. Elvir Muriqi May 5th, on a Mike Arnaoutis headlined Atlantic City fightcard and middleweight world champion Kelly Pavlik puts his WBA and WBO titles on the line against Gary Lockett June 6th right back here at the Boardwalk Hall.