Antonio Margarito: Sweet Vindication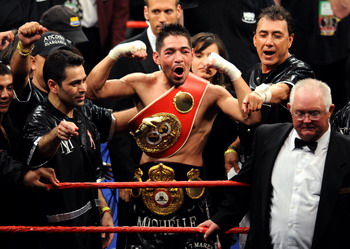 By Anthony Coleman, photo by Naoki Fukuda: No offense to Miguel Cotto, but when Antonio Margarito's hand was raised in victory I was smiling. Not because Cotto was defeated (and I hope that he is recovering after taking a Vargas-esque beating like he did). Not because my prediction of a Margarito victory came to fruition (go onto a popular boxing website and lookup Blackartsviper). But it was the fact that he was able to get the greatest victory of his career after boxing politics seemingly stalled it.

Ever since he won the WBO Welterweight title from Andrew "Six Heads" Lewis (remember him?) in 2003, Margarito has been near or the very top of many boxing fans and writers list of best Welterweights. Yet despite his credentials and Bob Arum by his side, he still couldn't score that one mega-fight that would pay him millions and bring him to the pound-for-pound inner circle. He was consistently looked past for fights with Forrest, Mayorga, Spinks, Judah and of course Mayweather (who didn't accept an 8 million dollar offer to fight Margarito in 2006). It was the same boxing cliché: Too good for his own good..

Margarito wasn't a superstar and didn't have a huge fan base. He wasn't groomed for boxing superstardom the way Jermain Taylor, Roy Jones, Floyd Mayweather and Miguel Cotto were. He didn't have a huge HBO contract. He was a man who started his career when he was still a teenager and lost three fights before his title winning victory over Lewis. When he continued to garner knockout victory after knockout victory, he still wasn't in serious discussion for a big money payday fight and those megastars had a reason to look over him because he was a relatively anonymous fighter. Yet even worse were the detractors, many of them fans of the brand name superstars, who went out of their way and voiced their opinions that Margarito was overrated.

The criticism was often the same: his punches were too wide and it made him easy to hit. His hands were slow. His feet were made out of cement. He didn't have one punch KO power. While most of this true to a point, his critics greatly exaggerated his flaws.

True, he didn't have the amazing hand or foot speed of a prime Sugar Ray Leonard. He wasn't the defensive genius that Pernell Whitaker was. He didn't have Jose Napoles' tremendous balance, technique and combination punching and he didn't possess the "Psycho Crusher" that Hearns or Trinidad had. However, Margarito always had world class, pound for pound level talent.

Every punch he throws came with maximum leverage and carried power. While his footwork isn't amazing, given enough time he would get to his opponent and tear them apart. He is a great body puncher. His stamina is impressive. Also, while his handspeed isn't special, his punches are wide and he is there to be hit, it also must be noted that he places his punches at the most hurtful parts of the body and that in his combinations at least one of those hurtful bombs will land. Plus he has one of the best chins I have ever seen. I mean, my god, did you see some of the punches that Cotto tattooed him with? Again it seems as if many were looking for a reason (cough* Mayweather fans*cough) to discount him.

Even when he won certain fights he was never given the credit he deserves. Going into his first fight with Kermit Cintron, many felt that the KO artist would stop Margarito. Yet when the Tijuana native physically and mentally destroyed Cintron in five rounds, he got no credit and those same fans who championed the Puerto Rican power puncher wrote him off as overrated as well. Again it was a case of fans not wanting to give Margarito credit for his success.

Last year it looked as if the sun was possibly setting for Margarito. Going into his mandatory title defense against Paul Williams it was agreed by Bob Arum that if he would defeat him then it would lead to a showdown with Cotto in October. However, Margarito would lose his title on points to Williams and he watched as Cotto took on Shane Mosley later that year. With his thirtieth birthday approaching it looked as if his time had past.

But thankfully Margarito didn't feel sorry for himself and moved forward. On the undercard to Cotto-Mosley, Margarito would put on one of his best performances and took out Golden Johnson in the first round. Then in April of this year he would defeat Cintron for a second time, and this time picking up his IBF version of the Welterweight title. His win over Cintron set up his title unification with Miguel Cotto. Again he was the underdog to the Puerto Rican sensation and those same detractors were loading unto the Cotto bandwagon.

Yet with his arrival on the world stage Margarito didn't disappoint. Though Cotto took an early points lead, Margarito proved why he is called the "Tijuana Tornado." He started to walk down the smaller Cotto with his pressur, bodypunches, and uppercuts on the inside. By the end of the tenth round a hurt Cotto was holding on for dear life. By the 11th round Cotto's face looked like an absolute mess, and then Margarito closed the show by knocking his foe down twice and forced the referee to stop the contest. Margarito had finally proven that he was on par with any Welterweight on the planet.

After the win I was almost clapping in my own damn living room. In my very first article I championed Margarito and expressed my anger that Mayweather refused to fight him. But now, after getting his big chance to show to the world that he could not only hang, but beat one of the best boxers in the sport I was thrilled that he finally gained the respect of the boxing world. Even though he was behind on points, he didn't quit and proved his toughness and he is now the "man" and Welterweight.

So what's next for him? Hopefully he can take a break and enjoy his accomplishment. He has earned it. But after that, I only want to see one fight: a rematch between he and Paul Williams to determine absolute supremacy at 147. If that fight can't be made because of boxing politics (I will address this in a later article this week) then the boxing fans are once again being cheated. However, I'll discuss this at a later time; right now I just want to congratulate Antonio Margarito for finally overcoming obstacles and arriving at the superstar status that he should have achieved years ago. This is in fact Sweet Vindication.

News of The World:

After the fight I was really worried about the health of Miguel Cotto. I mean his face was just mangled and he had taken some horrible body shots over the ten and a half previous rounds. I hope that he takes the rest of the year off and recovers then comes back into the ring. In my opinion this loss doesn't drop or diminish him in anyway. He is one of the best fighters in the sport and is firmly entrenched in my personal pound for pound rankings. However, I'm worried that he won't comeback after taking such a beating. David Reid and Fernando Vargas weren't the same after getting torn apart by Tito Trinidad. Ditto for Meldrick Taylor after his run-in with Julio Cesar Chavez. And let us not forget about Jeff Lacy after the beatdown he absorbed from Joe Calzaghe. I'm hoping this was just a loss and that Cotto can come back strong and give us more great fights. So right now I send my well wishes to him.

-Memo to Jeff Lacy: Please retire. He looked like ass on Wednesday against Epifanio Mendoza, nearly getting KO'd three times in the fight. Plus his balance diminished speed and reflexes are pretty apparent. Though he was able to score the victory he is unquestionably shot and I don't want to see him take more punches. If he loses to Jermain Taylor later this year he will run away with my "Evander Holyfield" award.
---
Why Margarito-Williams II Is The Only Fight That Matters
By Taj K. Eubanks - July 28, 2008: Twenty-four hours have passed. Second-guessing abounds. What the boxing world thought it knew, it didn't. Few expected an outcome so improbable, a shining star ground to dust, mere remnants of its whole. Miguel Cotto found himself in too deep against an opponent with nothing to lose and everything to gain. Say what you will, but you didn't see it coming, not like this.

A juggernaut stopped cold only happens in comic book movies or fantastic books written by men free with their pen. Yet the very soul of Las Vegas bore witness to the granite fists of a man in possession of a diamond chin, a man who wrote a new ending to story that seemingly had already been written.

The post-Cotto-Margarito era had been in discussion for quite some time. Would Cotto be Oscar de la Hoya's final dance partner? Or would he face Paul "The Punisher" Williams, the other man deemed to be the in line for the designation as the division's best?

That such forward thinking had occurred was presumptuous at best and disrespectful at worst to Antonio Margarito. Here is a man who, until being dethroned by Paul Williams, was the longest reigning of the recent welterweight champions, successfully defending his WBO strap seven times.

Yet Margarito garnered very little respect in the way of confidence from scribes, odds makers, or fans for that matter. Cotto by unanimous decision or stoppage was the prevailing estimation of the hour. All were wrong.

Now, with the dawn of Margarito's triumph springing forth a new landscape rife with enticing fistic scenarios, comes the critical question: Who's next?

Simple and obvious, the answer lies before us like a fruit yet to be picked. The Paul Williams-Antonio Margarito rematch is without a doubt the only welterweight matchup that matters.

Redemption is magnetic and powerful, and Margarito needs this fight exactly for this reason, as Kermit Cintron needed the second fight with Margarito, to right a wrong. That's what real fighters do. They attempt to scale a mountain that may be insurmountable, bucking a tide that has previously washed them away. As much as a Cotto victory does to heighten Margarito's profile and bolster his respect as an elite fighter, it does not make him the #1 welterweight, not so long as the man who defeated him roams unchecked on the same terrain. Bob Arum knows this, the press realizes this, and even his most ardent fans must admit this.

An Oscar de la Hoya fight is for the money. A Cotto rematch is for naught. The Williams fight is for supremacy
---
Cotto vs Margarito the "I hate to say I told you so, but I told you so" aftermath
By Robert Jackson: This follow-up article to the pre fight article I scripted is not meant to rub salt into the wounds felt by Miguel Cotto and all of his loyal fans, nor is it intended as a 'pat myself on the back' piece. I appreciate and honor Mr. Cotto's performance in the ring Saturday nite, Mr. Margarito was just the better man on that nite. The question is where do both fighters go from here?

The Tijuana Toughman man has plenty of options 1) he can begin to unify the titles and clean up the division (Zab Judah was at one time the undisputed 147lb champ), 2) he can (with Arum's help) coax Mr. Mayweather out of retirement for a REAL BIG fight, 3) he can give Miguel Cotto a rematch (this shouldn't happen right away Cotto needs time to heal), 4) rematch Paul Williams (the best and most lucrative option), and 5) fight Judah/Clottey winner.

The first option may be a difficult one because as economics in boxing goes the two top champions should fight each other for domination of the division with lesser champions falling by the wayside. I see no way in HELL that Andre Berto is READY for Antonio Margarito, or is Berto ready for Paul Williams nor will he be in the near future, plus his team wants to cash in a little bit off of the WBC title he holds.

The second option CAN REALLY bear fruit and before I tell you why, as a Floyd Mayweather fan I'm calling him out to seek and accept the challenge of fighting Antonio Margarito. This option can BEAR fruit because I'm sure that Mr. Arum would love nothing better than to see PBF stretched out on the ring canvas and he believes that AM is the man that will do it. I'm quite sure in the days to come an enhanced offer to Mayweather will be made to bring this fight to fruition.

Margo can put a few choice words behind this offer to get the "Pretty Boy" to bite, something like "you've seen more action in 4 rounds of this fight then you've seen in Floyd Mayweather's whole career" could do it, or maybe something a little more original with a few spanish words in it!

The 3rd option goes without saying Cotto needs time to heal and reflect on his future, he'll be back.

Number 4, is where it's at, Paul Williams just scorched Carlos Quintana, Margarito dominated Cotto and many believe the first fight between Williams and Margarito was a close affair, so let's settle things!

Option 5 is the 2nd best choice especially in the case where Clottey is the victor, Clottey gave Margarito one of his toughest challenges until a broken knuckle on his right hand and a broken pinky finger on his left hand ended his chances of winning, many would like to see how this matchup would go with both guys being healthy!

Cotto's returns maybe later on this year or early next year and Arum has to do another masterful job of building Miguel back up. This time Arum must allow Cotto to face PUNCHERS, he's served his apprenticeship and will be expected to always step up. This rebuild and makeover may see and end to the trainer/fighter relationship that exists between Miguel Cotto and his Uncle, don't be surprised if Cotto looks to a new trainer to take him forward. A paring between Cotto and Kermit Cintron would be a good comeback fight for both fighters. This fight would be a pre-requisite fight to a rematch between Cotto and Margarito. We'll have to wait and see how Cotto's loss to Margarito affects him, let's also wait and see how far Margarito is willing to go as the number 1 welterweight in the world!
---
Antonio Margarito, The Ultimate Heartbreaker - Who Can Beat Him?
by James Slater: Antonio Margarito just keeps coming and coming in a fight. He's done it many times before, and he did it again last night against the hitherto unbeaten Miguel Cotto. Without question, the Mexican warrior is an unstoppable, never give up, heartbreaker. That's what Margarito does, he breaks fighters' hearts.

Take last night's "Battle," for example. The 30-year-old waded through Cotto's best and most accurately hurtful shots all night practically, only to win in the end. It wasn't one shot that ended Cotto's reign and unbeaten record, it was simply the overall pressure of a fighter who is beginning to look like a true modern day phenomenon. Who else could have overwhelmed an on song Cotto, who was putting on a virtual punch-perfect display for almost half a dozen rounds, the way "Tony" did? Make no mistake, what we had the privilege of witnessing last night in Las Vegas was the sight of a unique fighter doing his thing..

For years ( a losing fight to Paul Williams side - and how good does "The Punisher's" victory over Margarito look now!) the Mexican hard man was avoided. How smart do the sidesteps of men like Floyd Mayweather and Oscar De La Hoya appear to have been in hindsight of what Margarito did last night? In short, what we have with the 30-year-old from Tijuana is a throwback. A tough-as-nails, unbreakable and unyielding mother of a fighter. Willing to take a great fighter's best shots, and doing so without blinking, Margarito is a pugilist who from now on had better get used to being given the plaudits he has long deserved.

"The Most feared man in boxing," they called him - only for some fans to say such a distinction was unworthy, a product of nothing more than hype. Think again. After the minefields Margarito walked through without as much as an uncomfortable look at The MGM Grand, everyone must accept his substance. The question is, is there anyone at 147-pound or thereabouts who can beat him?

The aforementioned "Punisher," Paul Williams, and his fans will no doubt be screaming about last summer's points result that ended in favour of the lanky welter. And rightly so. But has Margarito improved since that loss? Judging by last night's breaking down of the mighty Cotto, it looks like it. And with Williams' alleged problems in getting down to 147 comfortably, who would bet that the current WBO boss would be able to repeat his win? Don't get me wrong, Williams will want the fight, and is probably right now hoping and praying he will get it. But as good as he is, would Williams be capable of dragging himself through the kind of hell 12 rounds against Margarito brings for a second time? Maybe, but I wouldn't bet on it - as much as I like and admire Williams.

What I would bet on is "Tony" making a lot of well deserved money in the coming months. He doesn't figure to lure either Mayweather or De La Hoya into a fight with him, but the man with today's most astonishing chin is a dead cert to take away the heart of any other welterweight who gets in the ring with him.

That's what Margarito does; he takes an opponent's heart. And as long as he continues to do so we boxing fans will be treated to the spectacle of an unassuming, yet supremely gifted warrior going about his business. It's way past time Antonio Margarito became the celebrated combatant we always knew he was.
---
Margarito Defeats Cotto: The Great Tradition Upheld
By Michael Klimes: What can I say about the most anticipated fight of the year, which was one of the rare classics that exceeded expectations and defied most pundits' predictions? Unfortunately, not much, but I may as well try without skidding into a cliché as I write from a summer house in Sweden where a person returns from exhilaration to consider previous events in tranquillity. I was stranded in Stockholm for the weekend that is not a bad place to be with its galleries, architecture and long legged blond beauties.

I wonder if they outdo the showgirls or ring girls in Las Vegas? I will have to satisfy my curiosity in the future. To my humiliation, I could not find a bar that showed the fight so I experienced the delayed elation of seeing Antonio Margarito's victory over Miguel Cotto. I read about the result on the internet before I saw the fight. Oh well…the wait was worth it. Margarito put his middle finger up to me as I voted for the wrong guy.

The old wisdom is that styles make fights. Miguel Cotto and Antonio Margarito were destined to be exciting together and indeed they were. If they had not been, that would definitely have made me question the tested doctrine that styles make fights. Even being a committed atheist does not save my belief system from doubt.

A pattern of strategy was firmly established from the opening bell. Cotto was the man leading the dance and Margarito was his tango partner more than happy to follow his lead. Cotto demonstrated his skills beautifully swaying from side to side, slipping and sliding, shooting from a variety of angles, creating a tapestry of punches as he went from the head to the body. He followed a distinct rhythm, circling from side to side, placing his feet and then letting off two, three or four punch bursts and then dancing again. Margarito was his usual self and took every punch with a gruelling efficiency. He gave the impression it was a normal day at the office, not the defining bout of his career.

Cotto, however, was a little worried between the break of round two and three. There was a slight fog in his eyes as he started to acknowledge the rock in front of him. The British historian A.J.P Taylor described the incumbent Liberal Prime Minister Asquith during the Great War (I am paraphrasing) as being "a rock and like a rock incapable of movement." That succinct observation can be applied to Margarito except he was a rock that was very mobile. His ability to cut off the ring issued Miguel Cotto with an ultimatum he could only delay by jabbing and falling back.

It started to grate me that many boxing analysts before and during the fight called Antonio Margarito a "one dimensional fighter". There is a method to any tornado, especially a Mexican tornado. When A.J. Liebling was acquainting himself with the crudeness of Rocky Marciano, he sensed an intellect or even genius in Marciano's style. The same was true as Ali steadily dismantled George Foreman in Zaire. It gradually became transparent to Norman Mailer and George Plimpton that something mystical was happening. I cannot help but apply the same standard to Margarito. He is brilliant at making others underestimate him. His slowness and ugliness disguise the fact that he is deceptively quick, both in hand and foot speed. His toughness hides the potency of his offence that is brutal body punching which is the equal of Cotto's.

Sadly for Puerto Rican fans, Cotto kept on showcasing his better skills yet they were not enough. He failed to pass the idea of effortlessness that I think was articulated by Fred Astaire, "If it does not look easy, you are not working hard enough." The Puerto Rican was working extremely hard but perhaps Margarito simply worked harder. He is the essential blue collar warrior and not the flashy Olympian.

The finest Puerto Rican fighter since Felix Trinidad could not outgun the more than sturdy Antonio Margarito. It was poignant to see their camaraderie at the end of the fight reminding their supporters of a kinship which can exist across the deepest national boundaries. Boxing is a lonely place for its participants but that does not mean it has to be a hateful environment.

What will happen to them now, hopefully a deserved break from the ring? The Cotto express has been temporarily derailed but he should have enough steam to return at breakneck speed. There was nothing disgraceful in his loss. He will be feeling an anguish only a fighter who has lost can understand. Margarito is experiencing a high that he has never had before as he has broken into the mainstream. It is time he lost the categorisation of an underdog. He has got to the top in the hardest fashion. He is from the lineage of Bernard Hopkins and Marvin Hagler. The welterweight division still has to establish an undisputed champion but that can wait for now, we have a moment to savour what happened, not speculate about what will.

This fight deserves to be shrouded in a neon sign and gasped in the same breath as the other classics of the modern era such as Roberto Duran versus Sugar Ray Leonard, Sugar Ray Leonard versus Tommy Hearns and Oscar de la Hoya versus Sugar Shane Mosley.

Margarito and Cotto have instilled faith in me. So even though there have to be winners and losers in any sport, especially a profession as demanding as boxing; I hope I have been able to pay tribute that is due two serious fighters and the heritages they come from.
---
Live From Ringside At The Cotto-Margarito Bout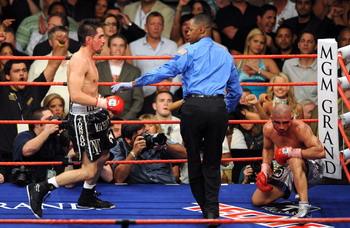 By Taj Eubanks, photo by Naoki Fukuda - July 26, 2008 - "I saw you beat that man like I never saw no man get beat before, and the man kept coming after you. Now we don't need no man like that in our lives." --- Duke to Apollo Creed from Rocky II

Boxing, despite its alternately glorious and lurid history, has the ability to ignite a fire within fans that I have only seen otherwise in international soccer matches. The nationalistic fervor that engulfed the MGM Grand Arena tonight was spectacular, as the seats were stuffed to the rafters with rabid Boricuas and Mexicans chanting, singing, flag-waving, and engaging in raucous back-and-forths with each other. The atmosphere was, in short, electric. Surrounded on either side by fans from each contingent, it was difficult not to get swept up in the frenzy and act completely insane. Instead, I just took it all in, absorbing every sight and sound like a human sponge. I knew that I was in a special place and moment and wanted to savor every second.

After the last supporting bout, watching the ring entrances was amazing. It's one thing to see them on TV; it's another thing altogether to hear the deafening cheers of nations rain down like a hurricane, so loud and piercing that you feel their vibrations shake your core. By the time that Miguel Cotto and Antonio Margarito climbed into the ring, emotions were at a fever pitch (this author's included), with every living soul in the arena lurching to their feet to greet their heroes. Immediately apparent was the fact that not only were both combatants supremely conditioned and chiseled to the nth degree, but also that Margarito's imposing physique seemed much more impressive in person. This bout was pulsing with energy despite reports of sluggish ticket sales and lukewarm buzz, a potential fight of the year, and everyone with eyes and ears knew it.

The fight, it seemed, occurred in two stanzas: the first five rounds and the last six rounds. The hand to hand action seen in the first half of the fight was the most brutal seen in recent times, conjuring images of the Barrera-Morales and Vazquez-Marquez trilogies, as well the granddaddy of them all, Corrales-Castillo I, with one primary difference: both combatants were hurt in those classic matches.

The fight began as expected, Margarito swarming with his trademark pressure as Cotto returned fire with fire with smart flurries and body shots. He gave as good as he got. Thunderous applause and cheers punctuated each round. Neither fighter was hurt in the first half, with Cotto seeming to get the better of the rugged Mexican in the early rounds.

A seismic shift occurred in the sixth round however, with Cotto wobbled by Margarito's unrelenting assault. While Cotto managed to fire off a flurry, it was clear that the withering attack was beginning to take its toll. The subsequent round would mark a strategic shift by the Boricua, who then decided to box rather than stand and trade. A sound strategy to be sure, yet less than effective as Margarito, like a circling shark, smelled blood.

The Tijuana Tornado, ever the warrior, continued to surge forward with sharp, jarring uppercuts and body shots. Cotto, though backpedaling, continued to unleash a torrent of left hooks and headshots that would have ended the night against any other foe. Unfortunately, Margarito is unlike any other combatant that we have seen in years. Despite the missiles being launched with crippling velocity to both his cranium and corpus, Margarito never, not once, showed any sign of being hurt, the recognition of which was visibly etched onto Cotto's mug.

The evaporation of a fighter's spirit is a terrible thing to witness, and for all of Cotto's valor, it was clear that his will was broken after the seventh. The subsequent rounds saw Cotto in survival mode as Margarito continued to bulldoze his way forward. Cotto, now consistently backed into the ropes, fired off combinations to no avail and seemed ready to go down at any moment. He courageously lasted until the eleventh, a round that saw him twice take a knee before his corner wisely (and mercifully) threw in the towel. The now-frenzied Mexican contingent ecstatically roared in unison, like ancient Romans in the famed Coliseum. Chants of "Me-xi-co! Me-xi-co" reverberated throughout the casino and into the night.

It is worth noting that several things were made abundantly clear tonight.

First, Margarito is a baaaaaad man. Short of clocking the guy with a pair of brass knuckles and a Louisville Slugger, there seems to be nothing that can be done to hurt him, at least in the welterweight division. His world-class chin is rightfully lauded, as he not once took a backward step and took Cotto's best shots on the chin as if playing with a child. Second, Cotto's chin, the object of much armchair analysis, is woefully underrated. He took a remarkable amount of punishment from a huge welterweight, punishment that saw other foes bite the dust much sooner, yet he fought on. Third, Margarito cannot be beaten by brute force. He has to be defeated by a volume-punching boxer, a la Paul Williams (a fact that will hopefully serve up a tasty Williams-Margarito rematch in the near future). Finally, perhaps there was a kernel of truth in old Bob Arum's claims that Margarito was the most feared fighter on the planet.

And of course, there is the specter of a certain former Mr. Pound-for-Pound looming over the whole affair.

There has been a realignment of the stars in the welterweight division, one that many did not anticipate, though its materialization was always a distinct possibility. Margarito was luminescent tonight, becoming the shining star that he always wanted to be. Where this train goes from here no one knows, but we all are, thankfully, along for the ride.
---
The Cotto-Margarito Aftermath: A Praise For The Now, A Glimpse At The Future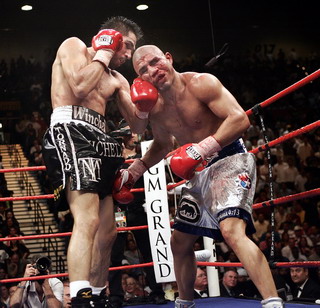 By Vivek Wallace, photo by Chris Farina/TopRank: In what was a very colossal affair, fight fans around the globe got every penny of their monies worth as Mexican Antonio Margarito and Puerto Rican Miguel Cotto finally stepped in the ring to deliver on this years most highly anticipated showdown. In an era where fight fans are not always accustomed to witnessing a true showdown, this battle was definitely as good as advertised. Coming into this fight it was very clear that the two fighters - both of whom bring a very dominant will into the ring - would try to break the posture of the opponent, and after 11 hard fought rounds, the unthinkable happened. A pre-fight prediction rendered spoke ominously of the words of former Miguel Cotto victim, Alfonso Gomez, who once stated that "Many men have hurt Miguel Cotto, but the difference is gonna come against the guy who can close him". After 11 action filled rounds and plenty of peaks and valley's, some found out what a few already knew. That something is that unlike Mosley, Judah, and many of the past, Antonio Margarito is a bona-fide closer.

Few initially saw reason to go against Miguel Cotto and through better than the first half of the fight, he would show exactly why, connecting on virtually everything he threw. Despite his ability to pick his spots and land some effective powershots, as earlier predicted, the true fight would start when Cotto realized that while his powershots could render physical damage, ultimately they would never deter the granite chinned Margarito who appeared slow and out of sorts for most of the fight, yet was still able to effectively walk down the better boxer and prove that better boxing skills can at times mean very little when the day of reckoning comes against an opponent who simply will not be denied. As great as the fight was hyped, and as much as we all knew the danger for Cotto in such a fight, for most - myself included - it was a painful and near tear-invoking experience to see such a class act rendered totally helpless beyond submission. The main base of the pre-fight predication was Margarito's ability to close, and what some new, tonight, others had confirmed.

Before we take a glimpse at what the future holds, it should be highly noted that even in defeat, Miguel Cotto was very gracious, and nothing short of the type of fighter this sport has long been without. In an emotional moment, despite a strong need to gather himself and collect his thoughts, he still took the time to come over to Antonio Margarito and not only thank him for the opportunity to take part in such a huge spectacle, but also tell him personally that he "was an excellent fighter, and that he [Margarito] did his job better in the ring". Former NBA Headcoach Pat Riley once stated that "in every loss or setback there's a seed of benefit equivalence". The greatest relative examples.......When formerly undefeated Paul Williams lost, we saw him come out and refuse to be denied ever since. When Antonio Margarito lost to him, we saw him go to the drawing board and change strategies, allowing him to reach this pinnacle. With all of the heart and courage that Cotto exudes, there's no doubt in my mind that the next time we see him he will take his name to new, previously unheralded heights. We wish him nothing but the utmost.

RISE AND SHINE

Tonight, right before many eyes, a transformation took place. After so many years of failing to live up to the hype, and so many years of collapsing on the big stage, Antonio Margarito was able to rise to the occassion and shine for the world to see. Despite the well known danger coming in for Miguel Cotto, few were actually ready to see this 'changing of the guard' actually take place. In wake of the Margarito victory, suddenly the skies part like the red sea. Miguel Cotto was considered the toughest challenge in the division, and Margarito not only defeated him, but subsequently found a way to do it on a grand scale. This now opens the dialogue relative to where he goes next. Oscar De La Hoya has openly spoken of facing the winner of this fight. After watching such a gutsy performance, I think it's safe to say that won't be happening. Most can remember the stories about the evening that Ricky Hatton defeated I believe Jose Luis Castillo, and how Oscar rang his cell phone immediately in the locker room to congratulate him, as well as try to sell him on a showdown to potentially take place in Great Britain. Well, I can guarantee you that Margarito's phone never rang, and that this is a call that will never come.

Considering the Mexican heritage, it would be a great way for Oscar to end his career, but it's probably safe to say that the only thing in common between Oscars thoughts and Margarito's plan is the fact that they're both very 'green'. It has been confirmed that Oscar De La Hoya has instead decided to hone in on the smaller Manny Pacquiao, leaving Margarito contemplating which rematch he wants to take first. There is either the Paul Williams rematch which was bound to happen considering that Margarito did do very well in the initial fight despite a slow start, or the Joshua Clottey rematch, because it is widely believed that he will somehow edge Zab Judah based on his power and unrelenting pressure. If Margarito doesn't pursue either rematch to collect another strap, it'll be very hard to see his stock continue to rise, because a precious few other options remain. At any rate, the answer to that question is one for tomorrow, but as for now, we celebrate a victory for a fighter whose 'coming out' party has been long over due.
---
Margarito-Cotto: The Prediction and the Outcome
By Ted Sares: The Prediction: Paul Williams was able to beat Margo by utilizing a disciplined fight plan and by staying on the outside keeping Tony at bay with a great volume of effective jabs. Cotto, in my view, is too small to emulate this strategy.

I see Margarito eventually luring the undefeated Cotto into a slugfest, taking away his fight plan and with it, his focus. Against Sugar Shane Mosley, Cotto tired in the late rounds, but Mosley was too tired himself to capitalize. If this happens against Tony, it will prove fatal. However, I don't see the fight going that long.

With his superior size, I see the warrior from Tijuana getting stronger with each round and, with alternating brutal shots to the body and straight rights upstairs, imposing his will on Cotto by the sixth or seventh stanza. Once this occurs, he will be in a position to stagger his smaller opponent with either a debilitating shot to the liver or straight right to the temple. He then will close matters decisively around the eight or ninth round.

The explosive Margarito has never really been hurt. Conversely, Cotto has been hurt and badly so. Margarito is capable of dishing out big time pain--and once he has an opponent on the hook, he does not allow him an escape route.

The Outcome

When the end came in the eleventh round, I had Margorito in front 97-95 despite the HBO team's constant and wrong exclamations to the contrary. While losing the boxing match in the first five rounds to the back-peddling Cotto, "The Tijuana Tornado," blessed with a chin of iron, continued to stalk and stun his opponent until the sixth round when he became the clear predator. Once he found Cotto's chin with his left uppercut, the die was cast despite a decent ninth round showing by Junito. In the eleventh, Margorito hurt Cotto (whose face by now was a bloody mess), for the third time in the fight and this time and with time on his side, he did not let him off the hook He quickly closed matter decisively with a series of savage rights forcing the champion's corner to throw in the towel.

All in all, the prediction squared extremely well with the reality of the outcome. The Mexcian warrior was simply too big and too strong, as he overwhelmed the talented Cotto to become the new champion..