Floyd Mayweather KOs Ricky Hatton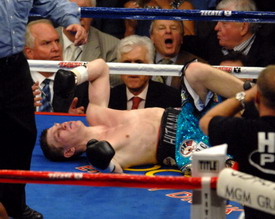 By Yero Moody, photo by Naoki Fukuda: How prophetic! No one could have given a more accurate prediction than the man himself, Mr. Ricky "The Hitman" Hatton. He uttered this prophecy during his post-fight interview after his win over the then WBA welterweight champion Luis Collazo. He went on to elaborate and state that he needed a few more fights before he would be ready for a bout with Floyd Mayweather, Jr. He subsequently went back down to 140 lbs. and had two sucessful wins over Juan Urango and Jose Luis Castillo who was the only man who ever gave Mayweather trouble in the ring due to Mayweather's injured shoulder, I might add. It was after his win over Castillo where he made what would prove to be a fatal mistake. He called out Mayweather and began his cheap talk. He didn't think Mayweather would call his bluff as brutally as he did. A perfectly timed "check hook" as Mayweather called it, sent Hatton flying into the ring post and onto the canvas looking up at the Vegas lights..

Many who have read my previous articles know that I made no bones in stating that I felt Mayweather is simply the best boxer in the sport right now. I have stated time and time again that no one from 154lbs south has the skills to beat Mayweather and it is still true in this writer's humble opinion. I've heard many so-called experts predict that the smothering pressure from Hatton would give Mayweather problems and I don't say that in an arrogant manner, for I myself have been wrong before as well. Only twice, but who's counting?

I predicted in my previous article that Ricky Hatton's style and lack of defense was tailor made for Mayweather to pick him apart and knock him out. I was told I was crazy, that I hated Brits and I am in love with Mayweather. I am in love though but not with Mayweather but with boxing in its purest, most scientific and most fundamentally correct display and there is not a virtuoso so pure and concise as Floyd "Pretty Boy" Mayweather!

As I collected my huge purse in Las Vegas from the many bets I'd won I was also saddened by how so few people really know boxing who claim to be hardcore fans and experts. As I watched the fight and listened to Harold Lederman's round by round analysis I wondered was he watching the same fight I was watching. He had Ricky Hatton ahead after the sixth rd. and only down by one or two points going into the tenth rd. I had Floyd ahead seven rounds to two going into the tenth and what would be the final round. My dear friends you don't win rounds by bullying, pushing and holding your opponents. You win by landing clean, effective punches and the harder the punch the more effective. Clearly, Mayweather landed the harder, cleaner shots throughout the fight. The one bright spot was the fact that all three of the judges had the fight being clearly dominated by Mayweather going into the tenth rd. One judge gave Hatton two rounds and the other two gave him one round.

Mayweather's dominating performance over one of the top ten pound for pound fighters in the world should put an end to the naysayers and haters who once claimed that Mayweather is "cherrypicker", a "runner" and doesn't like to take risks. Unfortunately, it won't. The Mayweather hater is a form of hater that is not capable of being objective when it comes to analyzing Mayweather or his performances. They have wired themselves to find something wrong with him no matter what. It wasn't enough that immediately following his controversial win over Jose Castillo that he immediately gave him a rematch and silenced all doubters with a clear victory. It wasn't enough that he went to a weight class that was clearly too big for him to take on Oscar De La Hoya. As sure as I've written this article its not going to be enough that he just beat a man that was supposed to have the style to beat him who happened to be an undefeated young champion in his prime. If those were track shoes Mayweather was wearing against Hatton I sure as hell want a pair!

The next big cry from Mayweather haters will be he needs to fight Miguel Cotto or he shouldn't be considered the best. Please don't get me wrong, as a fight fan I hope that he does fight Miguel Cotto but make no mistake about it he doesn't need to fight Miguel Cotto to be the best. He's already proven it time and time again. Cotto will be made to look like an amateur and he will be pummeled from post to post and knocked out! Cotto is a great fighter but so was De La hoya, Castillo, Hatton, Judah, Manfredy, Chavez, Gatti and Hernandez.

STOP THE HATE, MAYWEATHER'S GREAT!
---
Perspective: Floyd Mayweather Junior
- By Geoffrey Ciani: Pound-for-pound king Floyd Mayweather Junior made a tremendous boxing statement with his impressive victory against Ricky "The Hitman" Hatton. In what might well be his greatest performance to date, Mayweather proved that he is not only one of the most talented pugilists in the fight game but also one of the smartest. This unique blend has enabled Floyd to sit atop of boxing's elite class for many years.

In addition to having great skills, extraordinary athleticism, and sensational ring smarts, Mayweather also possesses another attribute which has enabled him to remain one of the best boxers of his generation—good management. Mayweather and his team are geniuses when it comes to evaluating "Risk vs. Reward". This is a very important and often overlooked aspect of what helps constitute 'greatness'. In fact, a proper assessment of such considerations can often constitute the subtle difference between a great fighter and an elite fighter.

When questioned about his future in the post-fight interview, Mayweather indicated that he has no desire to fight in 2008 or 2009. Citing the fact that he made a great deal of money this year, with mega-bouts against Hatton and Oscar De La Hoya, Floyd noted he would like to take a break from the sport that has made him rich and famous. On one hand, who can blame him? He is young, he is rich, he has his health intact, and if he retired tomorrow, he would still go down as one of the greatest who ever entered the squared circle. On the other hand, it seems rather convenient that Mayweather would bail now when looming challenges await him.

Luckily for the fans, Mayweather was not about to get off the hook that easily, as Larry Merchant pressed him about his most logical foe in the welterweight division—Miguel Cotto.

Cotto recently scored a career-defining victory against "Sugar" Shane Mosley, and many boxing observers view a potential Mayweather-Cotto showdown as inevitable. Unfortunately for fans, Mayweather expressed zero interest in such a fight at this time, and not without good reason, but we will get back to this a bit later. The most telling aspect of his post-fight comments was, when pressed about Cotto, Mayweather replied, "Cotto is a great champion and Mosley is a great champion!" It is rather interesting that Mayweather went out of his way to mention the name "Mosley" without being prompted to do so by Merchant, especially since Mosley just lost against Cotto in his most recent bout.

As things stand now, future historians will almost certainly view Mayweather in a more favorable light than Mosley. This largely stems from the fact that Mayweather has the 'Almighty Zero' in the "L" column of his unblemished record, whereas, Mosley's ledger currently has a "5" registered under that same column. One of the reasons for this may have a lot to do with the aforementioned ability to evaluate "Risk vs. Reward". Simply put, in a desire to prove his greatness, Mosley was willing to take on any and all challenges, regardless of the risk they posed; Mayweather seems less willing to take such risks, enabling him to maximize his marketability while maintaining a greater perception of greatness.

This is not to say that Mayweather's 'perception of greatness' is an illusion, nor is it to say that Mosley is (or ever was) necessarily 'greater' than Mayweather. Rather, the point is Mosley and Mayweather are both elite boxers who have taken different paths in their respective journeys. In the case of Mosley, he twice made the 'mistake' of affording opportunities to fighters who were stuck on the outside looking in. When Mosley faced Vernon Forrest and Winky Wright, the two men were each stuck in a similar predicament—they were top fighters who had difficulty landing big fights because big name fighters like De La Hoya and Felix Trinidad dismissed them due to the high risk and low reward each provided.

Not only did Mosley make the "mistake" of allowing these two on the inside path to greatness, but he further complicated his own difficulties by demanding immediate rematches after losing to both. This resulted in four losses on Mosley's resume, and in a day and age where too much emphasis is placed on an undefeated record, Mosley's legacy has no doubt suffered from such poor managerial assessments in the calculation of "Risk vs. Reward".

Mayweather has not made the mistake of taking these types of fights. This is not to say that Mayweather has taken a path of least resistance, for he has some stellar victories on his resume, including Hatton, De La Hoya, Jose Luis Castillo, and Diego Corrales, to name just a few. However, Mayweather has now reached the crossroads, and he seems less apt to square off against the best available challenges in order to prove his worth. Allow me to explain.

Mosley and Mayweather both started their careers in lower weight classes—Mosley started in the 135 pound division, Mayweather in the 130 pound division. As they both matured and outgrew these weight classes, they continued being successful in moving up the ranks. At a certain point, as a fighter fills out and outgrows former divisions, he reaches a ceiling where the competition is of a naturally bigger stature. It is here where weighing the factors of risk and reward is imperative for any boxer, and it is here where good management can mean the difference between being a "great" fighter and an "elite" fighter.

In the sense of maintaining an unblemished record and an aura of invincibility, Mosley took high risk fights that he may have been better off passing up. Had Mosley not taken on Forrest or Winky, he could have pursued other fights that may have better preserved his perception of greatness for bigger and better things. The fact is, certain styles posed Mosley problems, and these problems were amplified with fighters like Forrest and Wright, who were naturally bigger than him.

Mayweather may well have learned a thing or two from Mosley's mistakes, for as he now stands at the very same crossroad formerly passed by Mosley, he has a big decision to make. Does he want to prove his greatness by taking on any and all challenges, or does he want to manage his career more carefully so he can continue maximizing his marketability whilst maintaining a proper perception of greatness?

Because right now, there are several welterweights in their primes, all naturally bigger than Floyd, each of whom is jockeying for position to land a crack at him. These include Paul Williams, Kermit Cintron, and Antonio Margarito, in addition to the aforementioned Cotto. All of these fighters pose a huge risk to Mayweather, and he knows it.

Despite the number of challenges looming, the one that most tweaks the interest of casual boxing fans is a showdown with Cotto. In many ways, it is fair to fancy Cotto as a naturally larger version of Hatton. As I accurately predicted in my article Why Mayweather will prevail, the size difference was too much for Hatton to overcome.

Mayweather is not especially known for being a power puncher, and yet, he won by way of sensational knockout. Further vindication of my hypothesis comes from Hatton's own words, when he stated the difference between fighting at 140 and 147 was that that he 'felt' the punches at the higher weight class. Therefore, it is no coincidence that the two worst performances of Hatton's career occurred on the two occasions he ventured north 140 pounds.

That Hatton was able to provide problems for Mayweather in the early going was quite telling. After five rounds, I had Hatton ahead on my card, and it was obvious to me that Mayweather was not as comfortable as we are accustomed to seeing him. Unfortunately for Hatton, Mayweather's ring smarts and patience were on full display, as Floyd waited for the opportune moment to take control of the bout. As the momentum clearly began to swing in Floyd's favor around the seventh stanza, it was obvious that Hatton's best chances to win had already passed. When Mayweather ultimately sealed the deal with one of the most beautiful left hooks I've ever seen, he had proven his superiority beyond any shadow of a doubt.

Mayweather is smart. He realizes that, stylistically, Hatton posed a great threat to him. On the same token, he was also smart enough to understand that Hatton was too small to follow the playbook required to beat him. Ergo, Hatton was correctly evaluated by Team Mayweather for what he was—someone who did not pose a huge risk, but certainly provided a worthwhile reward. Mayweather understands that Cotto is all wrong for him, and this was evidenced by Floyd's reluctance to discuss a potential match-up. Facing Cotto is a huge risk! If Hatton was able to provide problems for Floyd, imagine what Cotto could do? Not only is Cotto a naturally bigger fighter, but he also happens to be more talented than Hatton as well.

If a contest between Cotto and Mayweather becomes a reality, I would favor Cotto to win. I think Mayweather views the match-up in a similar light, and as such, I do not believe Cotto-Mayweather will be forthcoming anytime soon. I think Cotto realizes this, and if he did not realize it before, then surely he must realize it now. Further enhancing this view is the fact that Cotto recently began calling out De La Hoya in hopes of winning the annual Cinco de Mayo lottery.

Considering that Mayweather recently brought the name "Mosley" to the table, I will not be the least bit surprised if 2008 brings us De La Hoya versus Cotto and Mayweather versus Mosley, because even though Cotto versus Mayweather makes more sense, Floyd is too smart to put his "Almighty Zero" at risk against a huge threat like Miguel Cotto.
---
Floyd Mayweather Junior: Your Best Friend Is Your Smother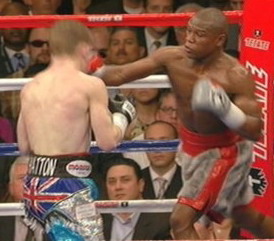 By Tony Nobbs: Floyd Mayweather junior retained his WBC and Ring Magazine welterweight championships and is mythical pound for pound title in a fairly one sided affair against two division champion Ricky Hatton at the MGM Grand in Las Vegas.

In what was a showcase of his supreme skill, Mayweather dominated most rounds and all but finished the contest with a perfect left hook with 1.57 left in the tenth round. Somehow the pride of Manchester, England, as ballsy a fighter there is, got up but was saved from further punishment a few seconds later, just before he sagged to the floor after a Mayweather combination. As referee Joe Cortez grabbed Mayweather away, Ricky fell to the canvas and the white towel came flying in from his blue corner..

The punch that scored the first knock down was set up in the opening seconds of the fight and was being better timed through out. Mayweather won the fight with speed and timing, he couldn't miss with sneaky right hands and lead left hooks but it was on the inside he made the statement and Ricky spent a lot of energy wrestling and not scoring with loaded up shots. Standing his ground, smothering in close, nullifying Hatton's leverage to land his bread and butter body shots, landing quick counters after Hatton threw and either missed or landed on arms, shoulders and elbows, it was a masterful performance in every manner.

After a big round eight where he snapped Ricky's head back with flush rights, Mayweather got around to the jab in the ninth and the fight was beyond Hatton's grasp. He ran out of ideas and coming straight in, got clocked by a perfect left hook as Floyd spun out of the way. Ricky buckled into the corner post and landed flat on his back. Seconds after beating the count and being hit with a couple of lesser punches he was totally spent and Cortes showed why he is one of the very best third men in the business. Official time: 1 min 35. At the end, Mayweather was up by 8, 8 and 6 points. Hatton deducted a point round six for hitting to the back of head as Floyd was half way through the ropes. TV replays indicated the punch missed.

This writer has been a Mayweather man since the start of Pretty Boy's career – The Black Mamba - his uncle and trainer Roger was also one of my favorites. Where does Hatton go from here? Who knows. There are big money fights, he's still a draw card and can command big money fights. This loss could either make him a completely better fighter or bring him back to the field at 140. He is always going to absorb punishment because of his in your face style and a Junior Whitter type could have a field day pot shotting him if he comes back damaged goods. However, he'd most probably still be good enough to win more titles and make great pay days.

As for Floyd? He's the best today – daylight possibly second! A match up with Miguel Cotto is one that would get us up for it but right now, we should just sit back and appreciate how great the man is.

An Olympic Bronze. Hatton, De La Hoya, Baldomir, Judah, Gatti, Castillo, Corrales, Chavez, Vargas, Manfredy, Hernandez. Six world titles in five weight classes. Undefeated. The Hall of Fame awaits him. How would he have gone in different era's. Whitaker out points him him, Chavez and De La Hoya he beats, Leonard , Duran, Benitez and Hearns? Forget it.

Where would he rate among the All Time Greats? Time will tell but put it this way: Sweet Pea struggles to make top 20.


My dynamite dozen P4P today:

1.Floyd Mayweather jnr

2. Joe Calzaghe

3. Manny Pacquio

4. Bernard Hopkins

5.Cory Spinks

6.Winky Wright

7.J.M.Marquez and Chris John*

8.Miguel Cotto

9.Israel Vasquez

10.Ivan Calderon

11.Ricky Hatton

12. Junior Whitter

* Please Note: Until I am able to view the tape of Marquez v John I will rate them equal as I have heard differing reports.
---
Did Floyd Mayweather Jr.'s Victory Over Ricky Hatton Cement His Place Amongst The Sports All-Time Elite?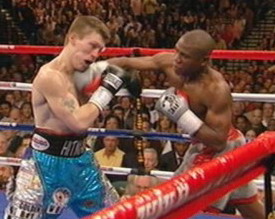 By Vivek Wallace: Cocky. Arrogant. Flashy. Outspoken. Call him whatever you like, but rather than adding to the growing list of individual adjectives, Saturday night's performance led me to put together three collective words of my own....Very damn good! It was the only unedited retort I could muster when all was said and done.

Floyd's performance against Ricky Hatton went a long way in helping him earn the respect of fight fans who viewed him as a defense first fighter, and if indeed we've seen the last of the man who refers to himself as 'Money', perhaps an even greater distance in adding him to the equation of all-time greats..

To examine Floyd's relativity among the sports all-time elite, we take a look at both sides of the argument, beginning with the view of those against.

ANTI-FLOYD ARGUMENT: Perhaps the most compelling and certainly the most heavily articulated argument in opposition of Floyd Mayweather Jr.'s position amongst the all-time greats is the fact that if we have seen the last of him, he'd be walking away from the sport at arguably it's deepest point ever.

Aptly dubbed the "Battalion of Young Stallions", boxings welterweight division shares the very uncommon trait of not only offering depth, but various echelons of it. Starting with the Tier-1 group, which is the penthouse residential suite reserved for rising Puerto Rican sensation, Miguel Cotto (31-0, 25KO's). In a not so proven, yet very talented Tier-2 group is the freakish Paul Williams (33-0, 24KO's), who's physical attributes make him potentially the most difficult opponent for any of the current welters. Aside from Williams, you have the forever raging Antonio Margarito (35-5, 25KO's), and Kermit Cintron (29-1, 27KO's). Sitting on the cusp of the Tier-2 level would be the man most view as a potential welterweight king of tomorrow, the incredibly talented, yet vastly unexperienced Andre Berto (20-0, 17KO's).

With each of these men coming into their own, skeptics openly question the possible departure of Mayweather and point to the fact that the timing is more than questionable in and of itself. This argument is supported by the fact that some of the talent Mayweather faced had seen better days, and that his victories over them weren't as stellar as they'd expect from a mythical 'pound for pound' champ. There are many other arguments to tack on to this list, but for the sake of minimizing the rhetoric, we've briefly analyzed the most popular view.

PRO-FLOYD ARGUMENT: Those who support the efforts of Mayweather as being sufficient enough to put him in this class have very solid references that sit in the 'ready' position to be dispatched in this very popular dialogue. When you take a look at the accomplishments of the fighters that he would be in company with - the Ali's, the Marciano's, the Ray Robinson's, the Henry Armstrong's, etc - it should be noted that what Mayweather Jr. has accomplished in the ring is something that none of these men have.

If you want to view things from a historical perspective, it's hard to compare, for the simple fact that today's fighter is nowhere near as active, thus the records are vastly different, as well as the opposition. To equalize that perspective, consider Floyd Mayweather Jr. having to fight Oscar Dela Hoya, Ricky Hatton, Miguel Cotto, and Paul Williams in the same calendar year. That type of frequency with that type of competition would be totally impossible for any fighter to overcome, which brings to life the realization that the level of competition in those days lacked the same depth. Surely there were comparable fighters to the greats of yesterday, but in an era of legal - and illegal - performance enhancing substances, as well as vastly improved athletic technology, today's athletes could not be viewed the same.

If you would like to view things from a modern era perspective, In Floyd Mayweather Jr., you have a fighter who has not only conquered 6 World Champions in 5 weight divisions, but few openly acknowledge the fact that he did it in only a 10 year time frame. Others have accomplished this, but none while remaining undefeated. One other thing you have to throw into the modern era perspective is that in a time where only the 'dollars' make sense, Saturday nights pay-per-view event will make Floyd Mayweather Jr. the first boxer to ever amass more than 1 Million pay-per-viewers in back to back fights. This is a record that not even the menacing "Iron" Mike Tyson, or female fan conquerer, Oscar Dela Hoya were able to accomplish. It's very hard to discount these statistics when you couple them with the fact that Mayweather did all you could ask of any fighter in any era. That being defeat the competition on any given night which stood across from him.

THIS WRITERS HUMBLE OPINION: To say that Floyd needs to stick around to face the current crop of contenders is wishful thinking because now that we know he can brawl and switch to the inside fighting game as well as play the cautious defender, there really are no questions remaining about his skill level. To see him execute the way he did in what was a very foreign atmosphere - equipped with man made bands in a very college football game type atmosphere - I think told me all I needed to know about the mental makeup of Mr. Mayweather.

A brilliant tactician, cat-like reflexes, killer instincts when necessary, and unrivaled ring discipline makes him - to me personally - a fighter that could find reasonable success in any era. Fight fans must remember that Floyd is a natural lightweight who moved up to chase dollars and legacy. He was successful enough to take his adventures all the way to the light middleweight ranks, but that was a preference, not a necessity. If he does indeed walk away from the sport at this time or at a later point and remain undefeated, there is no effective argument that keeps him out of this company.

I'm sure to some it must suck to know that a guy who talks as much as Mayweather jr. does holds the proverbial "I TOLD YOU SO" wildcard in his back pocket, but at this point, he does, and ain't a damn thing anyone can say about it. Each of those fighters who you may want to place before him has a loss - with the exception of Marciano. With or without one, Floyd has surely done enough to be mentioned. Where he stands among those greats can be debated, but whether or not he should be mentioned leaves nothing to discuss. 20 years from now, mos def, you will see the name Floyd Joy Mayweather Jr. in the mix. After Saturday night, the visibility of his legacy 'print' went from lead pencil to black ink, and the doubts or questions of his harshest critics could never erase that. I don't know. That's just my opinion. In time, I'm sure I'll hear yours too.

So to help this commencement, with no further ado.....Let the great debate begin!
---
Mayweather Hatton: After Effects
by Phil Santos - Floyd Mayweather Jr.: "Money" Mayweather remained perfect by knocking out one of the best pound for pound fighters on the planet in Ricky Hatton but did little to silence his critics. Mayweather finds himself in the same situation now as after the De La Hoya fight. He notched another win over a big name opponent (a list which includes Angel Manfredy, Diego Corrales, Jesus Chavez, Jose Luis Castillo (2), Arturo Gatti, Zab Judah, Carlos Baldomir, Oscar De La Hoya, and now Ricky Hatton) but whether it is questionable match making due to age, weight, or skill level of his challenger "Pretty Boy" will always draw harsh reviews from fans and media alike.

Floyd Mayweather, in short, is one of if not the most skilled fighters of all-time. On the same note he can be a very insipid, if not, unwatchable. Mayweather may not have the most exciting style but he plays to win and it hard to argue with his success. It is a difficult situation when you find yourself analyzing Mayweather and his place in history. The fight fan in me yearns to bash him for ducking Margarito and Cotto, or criticize his style and the fact that he is often content with a decision when he appears to be dominating the action. But how can I? Seriously the guy is really, really good…no check that, he's great.

How can anyone be critical of a fighter who simply knows what it takes to win? It's like calling a football team weak for beating a team with a great run defense by throwing all over them. Are they less of a team because they don't challenge the great run D, or does that just make them smart? Floyd seems to have the rare ability to remain composed under pressure while realizing when to go for the knockout and when out boxing his opponent is the surest way to a win. It's hard to hate on that.

Floyd's options are endless. A match up with Miguel Cotto would indeed be a Super Fight with the winner emerging as the worlds pound for pound champ. Aside from Cotto the competition is very good but the reward in terms of drawing power and acclaim for victory over the likes of Kermit Cintron, Paul Williams or Shane Mosley may not be worth the hassle for Mayweather. A Mosley fight seemed logical, a big name and a good draw, until Cotto defeated the former champ making himself the biggest threat to Mayweather's throne. So while there are endless options available to Mayweather there are only two that make sense to fight fans: Fight Cotto or Retire.

Ricky Hatton: "The Hit Man" showed heart and lived up to his word as he promised to pressure Mayweather like no fighter before him had been able to. Hatton was in the fight throughout and I think it may be unfair to say he was outclassed, but he was clearly not the better fighter regardless of whether Mayweather scored the knockout or not.

Hatton seemed disappointed yet optimistic that he would bounce back from defeat, even joking immediately following the fight that "that was some fluke". Hatton's fans supported their man throughout and should continue to do so as Hatton ventures back into the Junior Welterweight division. In only his second fight at Welterweight Hatton fought as well as expected against arguably the best fighter on the planet. A return to 140lbs should spell success for "The Hit Man".

After taking on such a difficult opponent Hatton should be expected to take some time off and most likely return with a tune up fight, maybe two before facing an elite 140 pounder. Perhaps the most intriguing match up may come against fellow Brit Junior Witter who is the reigning WBC title holder. Witter and Hatton have held an ongoing feud mostly fueled by Witter calling Hatton out and Hatton responding by disparaging Witter's skills and credentials.

Ricky Hatton came in to his match up with Mayweather in an ideal situation. He fought at a weight where he couldn't perform his best, a point he was quick to point out after the fight, so his sympathizers had a built in excuse for the loss before the inevitable became reality. Hatton remains a very good fighter, potentially still a force at 140 and at 29 years old he should have some good years ahead of him.

Having the undefeated label so painfully removed by Mayweather may take some of the shine off of Hatton's star, his ability to draw a crowd and marquis fights is soundly in tact. The aforementioned bout with Witter could help establish Hatton as the best Junior Welterweight over the last decade however; a loss could badly damage his place in history.
---
Mayweather KO's Hatton In Tenth
09.12.07 - Bill Calogero, TheDailysports .com: Floyd Mayweather Jr. kept his perfect record in tact Saturday night by stopping Ricky Hatton in the tenth round of their scheduled twelve round Welterweight Championship fight. The contest was the Main Event of "Undefeated", which was promoted by Golden Boy Promotions and broadcast live from the MGM Grand Arena in Las Vegas by HBO PPV.

Ricky Hatton pressed the fight. He was the aggressor for most of the contest. Floyd Mayweather was forced to fight Hatton's fight and turned out to be the victor.

With the MGM Grand Arena, packed with singing British fans, both fighters began the fight by going right after each other. It was obvious from the start that Mayweather had the hand and foot speed, but Ricky was a lot quicker than Floyd may have thought. The first round found both fighters landing punches, mostly to the head of each other. Hatton landed a very solid left to the jaw of Mayweather that clearly stunned him. It was a close round, but on my scorecard, I gave round one to Ricky Hatton.

Again, Hatton came out the aggressor for round two. He was cutting the ring off very nicely and was able to keep Floyd near the ropes or corners, landing punches to both the body and head for most of the round. Hatton landed a solid left on the side of Floyd's head, sending the Champion backwards, and the only thing that appeared to keep him on his feet was his exceptional balance. Mayweather was counter-punching successfully as Hatton came in throwing his punches, but was only landing one punch at a time, which kept the round in Ricky's favor. Floyd was also holding a lot and clearly was not fighting "his" fight. This was a very good round for Ricky Hatton.

Floyd Mayweather started round three pedaling away on his bicycle attempting to bring the fight back to his preferred style.......at HIS arm's length away. He began throwing extremely accurate counter-punches in twos and threes instead of one at a time like the way he did in the first two rounds. Hatton however was going to have nothing of this.

Again, Ricky was able to cut the ring off and keep the round and fight very close. He landed several solid left-right combinations to both the head and body of Mayweather. (It's important to note that referee Joe Cortez, whom I normally think does a great job, was "over-refereeing" this fight. Every time Hatton brought the fight in close, Cortez would separate them. This move was clearly in Mayweather's favor and I personally thought it to be very poor refereeing). Towards the end of the round, Mayweather landed back-to-back rights that opened up a cut over Hatton's right eye. Although this round was very close and honestly could have gone either way, I gave the round to Hatton because I felt he was still the aggressor and landed more punches, and most importantly, the harder ones.

Even though Hatton came out the aggressor for the fourth round, it was Mayweather who began to turn up the heat. As he was being attacked against the ropes, Floyd was able to counter punch very well, landing several left-right-left combinations square on Hatton's face, forcing the fight into open waters. The more Hatton pressed, the more punches Floyd landed. Mayweather clearly took this round.

The fifth round had Mayweather return to holding. Hatton pressed the fight, attacking Mayweather as he was against the ropes. Floyd was able to counter, but he was back to throwing one punch at a time as Ricky kept throwing punches from all angles, landing most. As Mayweather held, Ricky punched attempting to try and force Floyd to fight and it seemed that every time this happened, Cortez would break them apart. It started to visibly frustrate Ricky. The round was close, but I gave the edge to Hatton.

Hatton continued to batter Mayweather for most of the sixth round. At one point he had Mayweather against the ropes and as he often does, Floyd turned his back as Ricky launched a punch, the result was it (the punch) landed on the back of Mayweather's head. Referee Joe Cortez immediately jumped in and took a point away from Hatton. Again, this was poor refereeing in my opinion.

Although he was warning both fighters for holding, never once was either fighter warned about hitting behind the head. This was a close fight and one point was huge. As soon as the round continued, Hatton proceeded to batter Mayweather, resulting in an even 9-9 round on my scorecard.

The fight started to change as soon as the seventh round began. Hatton continued to press the action, but now Floyd Mayweather was countering with seemly harder punches. They were also coming in multi-punch barrages and as the seconds ticked on during the round, so did Floyd's output level. He landed more punches as well as clearly landing the harder ones. The round was very entertaining and full of action, but it was not close. On my card, Floyd won the round easily.

The eighth round picked up where the seventh left off. Now Mayweather was controlling the fight. Floyd landed a devastating right that stopped Hatton in his tracks. He also began landing multi-punch combinations to the head and body of Hatton. Mid-way through the round, a barrage of punches battered Hatton; his head snapping back and forth like a speed bag. But rather than cover up, Ricky began throwing punches back. They were wild, but his best defense was his offense. He came on strong for the final minute, but it was not enough to win the round. I gave the round to Mayweather.

The ninth round was a carbon copy of the beginning of the eighth. It saw Hatton coming in pressing the fight, but Mayweather able to seemly land punches at will from "his" arm's length. Again, a close round but I gave the edge to Mayweather.

The tenth round began the same way as the previous three, Hatton was pressing the fight and Mayweather was fighting from the outside, when a CRUSHING left hook sent Hatton crumbling down to the canvas. He was up and ready to go by the count of eight, but was still in trouble. Hatton tried to battle back and as he went in for an attack, Mayweather countered a sluggish right with a quick, crisp and power-packed left-right-left combination to the jaw of Hatton, sending him down again. As referee Joe Cortez began to count, he immediately saw that Ricky Hatton was not going to beat the count and put a halt to the bout.

The official time came at 1:35 of the tenth round, giving Floyd Mayweather the TKO victory. He retains his WBC & Ring Magazine Welterweight Titles and improves to 39-0 (25 KOs). After the fight, he said that he has nothing left to prove in the ring and will now focus on Promoting Fights. He gave Ricky Hatton and his fans credit and said it was one of the toughest fights he had been in.

Ricky Hatton loses for the first time in his career, dropping to 43-1 (31 KOs) and will most certainly not only be back, but will be back on top very quickly, most likely in the 140lb division, where in my opinion he belongs.

The fight was very entertaining and was fun to watch. I felt that Hatton was doing everything he needed to to come out with a win, but Mayweather proved a little too fast and too big for him to overcome. I also strongly believe that referee Joe Cortez helped Floyd by constantly breaking them apart AS SOON as the fight went close. This was clearly an advantage to Mayweather. I think he over-refereed this bout and as he and Floyd posed for a picture, the smile on Floyd's face as he looked at Cortez proved to me that Mayweather too had appreciated the referee's actions.

On the not so exciting under card, Jeff "Left Hook" Lacy won a unanimous ten-round decision over Peter Manfredo, Jr. in their Super Middleweight bout without throwing a substantial left-hook.

The fight was close, but Manfredo seemed to run out of gas as the fight went on. Lacy started out slow, giving the first few rounds to Manfredo on my card, but during the fourth, a right hand, combined with an awkward retreat, sent Manfredo down to the canvas. He was up and did not seem hurt at all, but it was clearly a knockdown and was scored accordingly.

The fight continued on with Lacy the aggressor, landing the harder shots more often.

The judges at ringside scored the fight 95-94, 96-93, and 97-92, all in favor of Jeff Lacy, who improves to 23-1 (17 KOs). Peter Manfredo Jr. drops to 28-5 (13 KOs).

Daniel Ponce DeLeon retained his WBO Jr. Featherweight Title by winning a unanimous decision over Eduardo Escobedo in another very "hard to watch" fight.

Daniel Ponce DeLeon demonstrated virtually no boxing skill, offensively or defensively but yet still clearly won the fight. The judges at ringside saw the fight 115-113, 117-111 and 118-110, all in favor of Daniel Ponce DeLeon, who improves to 34-1 (30 KOs).

Eduardo Escobedo proved to be the far superior boxer in terms of skill, but failed to be aggressive enough or throw enough punches to make this fight close, let alone win. He drops to 20-3 (14 KOs).

Finally to round off the un-impressive under card, Edner Cherry used a devastating left hook to drop Wes Ferguson twice in the sixth round, the later causing the referee to put a stop to the bout officially at 2:59 of their scheduled ten-round lightweight contest.

Cherry improves to 23-5-2 (11 KOs) and looks to fight for a Lightweight Title soon.
Ferguson drops to 17-3-1 (5 KOs) and looks to regroup.


I feel that the Mayweather vs. Hatton fight lived up to the hype. I also feel it was one of the first times I saw Floyd Mayweather Jr. have to actually fight and I was glad and impressed.

His counter-punching work was beautiful to watch and only someone with his hand speed could make it look so easy and effortless. The only issue I have with the fight is the difference in their size. Floyd was clearly the bigger fighter, from the weigh-in to fight night, I would guess that he held easily a 10-12 lb advantage and in the Welterweight division, that is huge.

I also feel that Floyd Mayweather Jr. MUST fight one more time to solidify his spot as a "Pound-For-Pound" All-Time Great, which is the title he personally craves. That fight has to be against a fighter the same size and in his prime. There is only one I can think of and that is Miguel Cotto. A win over Cotto will shut guys like me up for good on Floyd Mayweather, Jr.
---
Floyd Mayweather - World-Class Virtuoso: "There's only Ooooooone Mayweather!"
By David Math: In a tale of ironic beauty - Floyd Mayweather approached the ring with Bruce Springsteen's 'Born in the USA' blaring through the MGM Grand in Vegas facing true adversity as 20,000 lusted for a Mayweather loss. Instead they saw a virtuoso paint a magical canvas within a 24'' ring.

Hatton - undersized and thoroughly outclassed - made Floyd Mayweather uncomfortable in the early rounds as he imposed his bull-horn will - rough-housing - landing glancing body blows and occassional short left hooks. It was clear that Hatton was going to lay everything out in that ring. In return, Floyd was going to have to fight. This was to be no walk-in-the-park for Floyd like his bouts versus Carlos Baldomir and Oscar De Le Hoya where he could stick and move for 12 rounds and barely break a sweat. He was going to have to fight - and fight he did..

Floyd weathered the early Hatton onslaught and even dished out some rough-house tactics of his own - clinching strategically after landing picture-perfect straight rights - using his size advantage to out-muscle Hatton on the inside. While Hatton was fooling some judges and fans with the sheer output of energy and punches thrown in the ring - Floyd was actually *landing* shots cleanly, and it was wearing down Hatton methodically.

After several rough sequences of physical inside boxing, clinching, and a war of wills, Mayweather broke Hatton in the 8th as the accumulative effect of laser-fast combinations started to show wear-and-tear on the UK brawler. Mayweather was now landing his signature straight right-hand nearly at will and Hatton was in trouble. Never backing down from Mayweather - Hatton abandoned any game plan and began swinging for the fences wildly doing anything he could do to stay in the fight. It simply wasn't enough and Floyd made Hatton pay for his lack of discipline and polish with an almost telepathic left hook (called a 'check hook' by Floyd) timed perfectly that sent Hatton sprawling head-first into the turnbuckle. Hatton bravely picks himself up just in time to eat another Jedi-crafted Mayweather combination. Joe Cortez had seen enough moments later as Hatton lay dizzy and seriously hurt on the canvas.

Mayweather by TKO.

Let this be a clear message to all doubters and haters alike - Floyd Mayweather is the best pound-for-pound fighter in the world - and you have to admit that if you want to have any integrity as a boxing analyst. Further - you have to respect how he conducted himself tonite overall if you want to have any integrity as a fan of competitive sport.

While some (including myself) predicted Mayweather to outclass Hatton inside the ring, it was of peculiar interest to see Mayweather outclass Hatton *outside* the ring. Flashing a genuine smile with a spark in his eye at the fight's conclusion - Mayweather sang praises to Ricky Hatton, the UK, boxing fans worldwide, and the Most High. He thanked God for blessing him with his metaphysical boxing prowess, and thanked the powers that be in boxing for giving him the opportunity to shine on the highest stage.

After entering this fight with almost nonexistent support both at the weigh-in and throughout the pre-fight festivities - it's simply criminal if Floyd did not earn fans in multitudes after his virtuoso performance. He made me a huge fan - and he should make you proud to be an American. It's not Floyd's fault that he was born and bred in a cut-throat American society where money is God - Sure he's flashy, showy, and lets you know just how wealthy and talented he is --- and he's earned it. America breeds winners, demands talent, and operates on a dominate and get ahead by any means necessary type basis when it comes to world affairs - so how can you be mad at Floyd Maweather for being...well...American?

But that's all really just for the cameras and entertainment. Floyd showed you his true self *after* this fight was over. He put his hand around Larry Merchant - who couldn't even look him in the eye and show him even moderate respect - and almost begged Merchant to have some fun with him and enjoy the moment. Merchant wanted none of that and painfully interviewed Floyd with a cold posture. It's important to note that Jim Lampley showed Floyd the respect he deserved openly - and joked around w/ Floyd - looking him in the eye and laughing with him. Respect to Lampley.

Merchant's ice-cold demeanor didn't bother Mayweather one bit. He instead conducted himself like a gracious host to UK and Ricky Hatton - and articulated himself with introspective wisdom regarding the state of his career and his immense boxing accomplishments.

Larry Merchant - I love your brutally honest color commentating and unique insight - but show Floyd Mayweather some respect.

Meanwhile - the UK-rich MGM crowd cheered their hometown hero as he joked with tactful sarcasm saying 'what a fluke that was, ay?'. Hatton has a huge heart and gave his absolute best and has nothing to be ashamed of. Nobody was to beat Floyd Mayweather on this nite and Ricky Hatton brought the very best out of an all-time great - and should be celebrated for that.

But this was Floyd Mayweather's nite - and perhaps - Floyd Mayweather's definitive stamp as the best pound-for-pound champion of this era.

Thank you, Floyd Mayweather.

Thank you, Ricky Hatton.

Boxing is alive and well.