Sultan Ibragimov Out-Boxes Evander Holyfield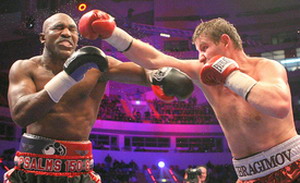 14.10.07 - By Wray Edwards, Photos © Wray Edward/ESB at ringside in Moscow, Russia -- click here to view photo gallery -- Zowie!!...when the tenth round started, nobody at the apron could believe that the fight was already almost over. "Time flies when your having fun." Though both fighters sized each other up for a good part of every round, when the leather flew, it did so in earnest. Both fighters got deadly serious about seven times every round. The Russian crowd, which gave Evander a pretty good cheer when he came to the ring, really got into the fight and chanted "Sultan!, Sultan!" many times during the bout.

This fight produced so many great images that I could hardly decide which to include here. So-much-so that the under-card report will have to wait. I have never had the opportunity to capture so many contact shots in one contest. So with that in mind let's get to the pics and you will see just how powerful the fight was:




Besides the lead photo at the top…there was this to Evander's tummy. One of which later in the round was right at the solar plexus and doubled Holyfield over.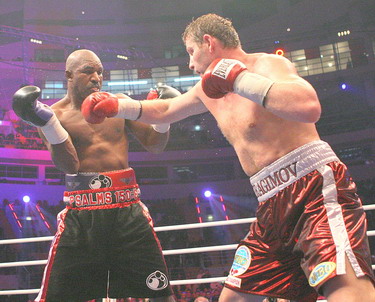 And this…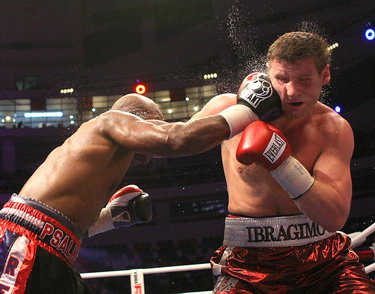 Evander put some of his best shots into the mix, but that just made Sultan hot-to-trot.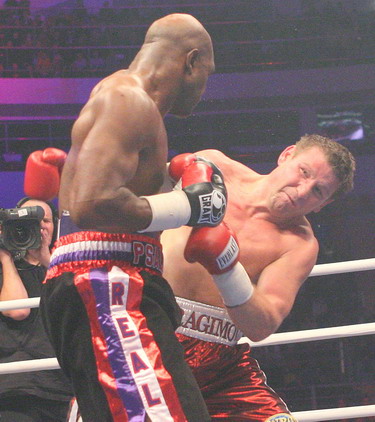 Ibragimov had to do some fancy upper body contortions to avoid quite a few Holyfield assaults.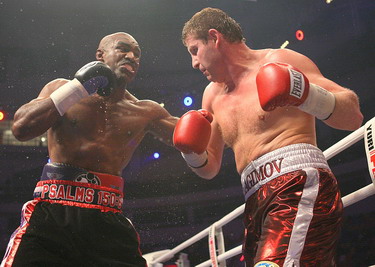 Evander got pretty tense whenever Sultan moved in.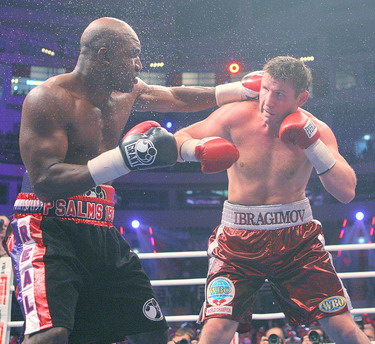 Here, we see Sultan helping Evander wipe off some sweat…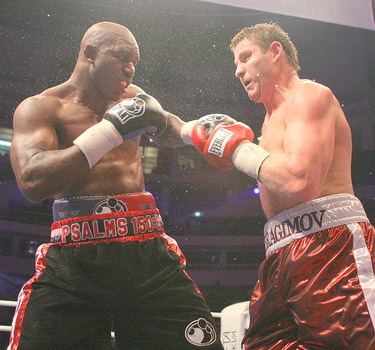 In fact many times.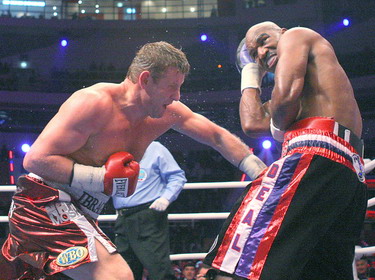 Ibragimov waged a balanced fight plan which also included plenty of lefts.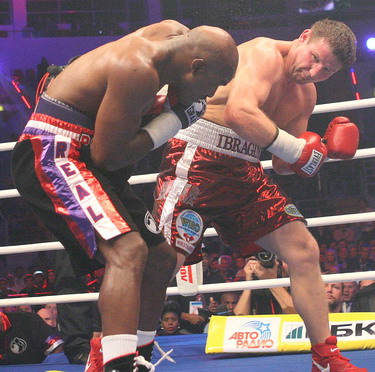 Well…maybe more rights than lefts.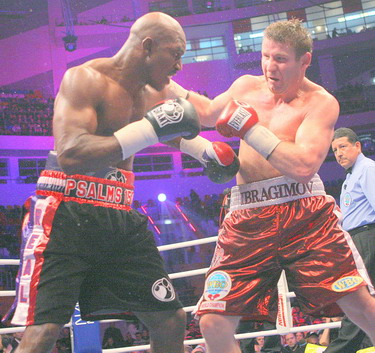 Man!...Boxing is so stressful.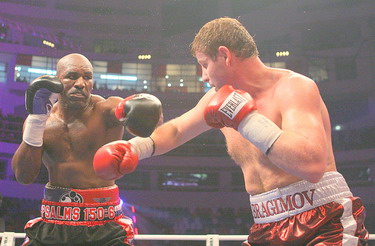 Evander calculates another close encounter.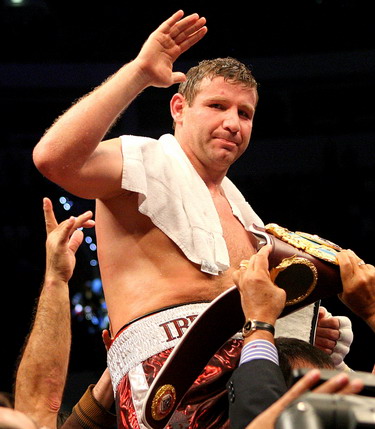 Sultan retained his championship and was lifted high to celebreate and wave to you guys. I had the contest 8 Rounds for Sultan and 4 Rounds for Holyfield.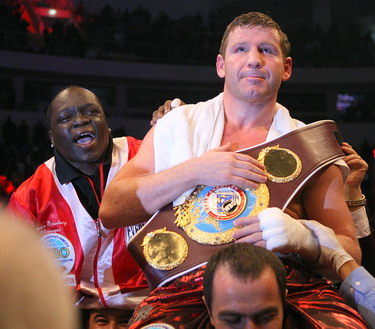 Jeff Mayweather also got lifted up, and I think he was happy.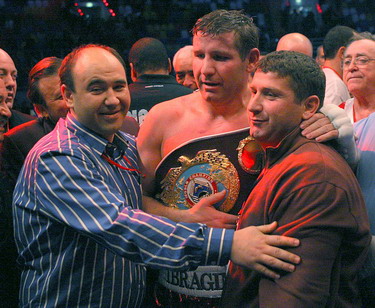 Sultan's brother was invited to the ring to celebrate. Man…they look alike.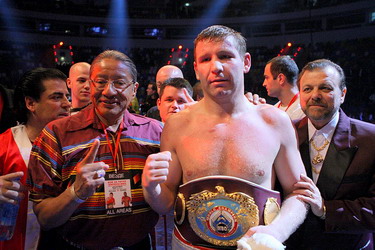 Sultan poses with the Chairman of the Seminole Tribal Council.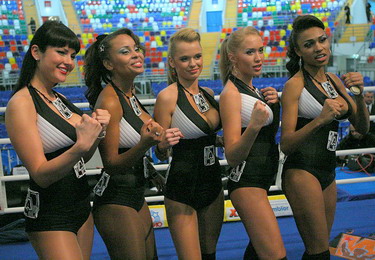 Go Russians!! Good genes!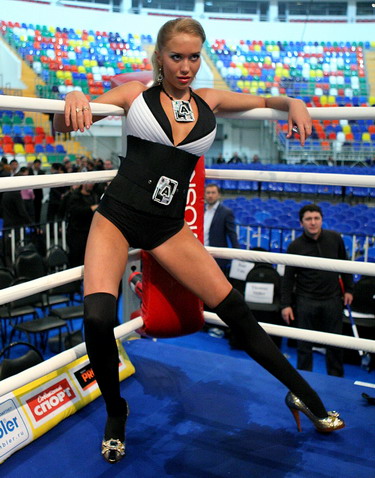 Yikes!!!...I think she's going to pounce.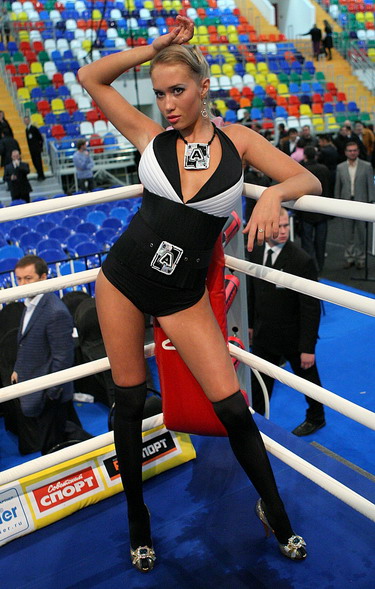 Maybe not. Damn…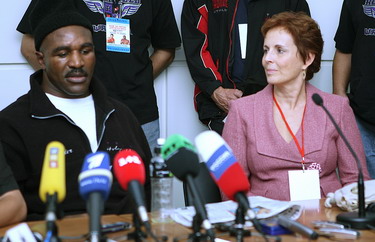 Evander was complimentary regarding Sultan's efforts:

"He was able to move real well. He's a smart fighter. He did the right things. I am planning to continue my career. Sultan's a good boxer. Styles make fights and his was effective with me."

I asked Holyfield if he thought Sultan had a good chin. He hesitated, but had to admit it after I added that he (Evander) was still able to crack. He did bring the leather pretty good last night.

Ms. Duva: "I would like to congratulate Jeff Mayweather for his excellent training and game plan. Thanks to Leon Margoles, Sampson Lewkowicz, and Yuri Fedorov for providing such a great venue and opponent for Evander.

Jeff: "I feel very good about this outcome. Sultan came to this fight in very good shape which took an amazing amount of hard work and training." Holyfield still has good power, and we were not about to deviate from the game plan just to try for a KO. If it happened as we followed the plan, good. If not, who cares?...we came to win."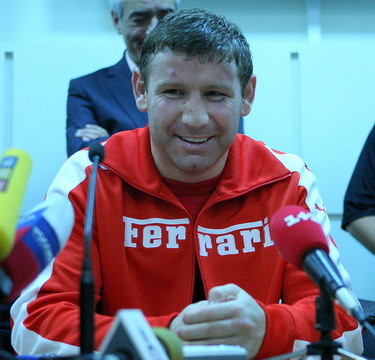 Sultan and his team answered the reporters' questions about Holyfield's performance with generosity towards Evander.

IMO, Evander put up enough of a fight to test Sultan's Boxing credentials. Considering the number of people who insisted that Evander was going to expose Sultan, there has to be a lot of humble pie getting chomped on today. Nor was Evander as vulnerable as others thought. He did right well in there.

As for his next fight, Thompson is Sultan's apparent mandatory. We shall see about that.

ESB would like to thank Warriors Boxing (Leon Margules, Lourdes Carrero") and Redline Media (Cima Georgevich) for their extreme efforts to organize and present this event. Considering the distance, language and experience barriers, and physical challenges, it was nothing short of a miracle. Every fight went off, on time, one right after the other with no delays. A Very professional effort. One of the best memories will be the harrowing, Jason Stratham/Transporter style ride in two high-powered Audis from the hotel to the Khodynka Arena. See you at the fights.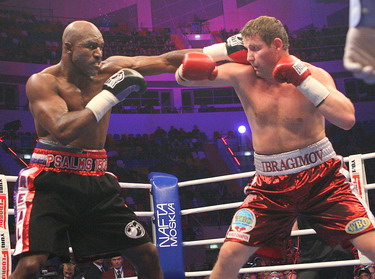 ---
Evander Holyfield Remains Defiant And Delusional
By Matthew Hurley: Going into his WBO title shot against champion Sultan Ibragimov, Evander Holyfield was on a rather peculiar four bout winning streak. All of the bouts took place in Texas, this because of his license suspension by the New York Athletic Commission after his 2004 loss against Larry Donald. His opponents were marginal at best and allowed Holyfield to delude both himself and some of his many fans who truly wanted to believe that "The Real Deal" had indeed somehow turned back the clock. After twelve rounds against Ibragimov all he proved was that the sand has run out of his hourglass.

But Holyfield, whose stubbornness and tenacity made him one of the greatest and most beloved fighters of his time remains what can only be regarded as delusional. If he couldn't beat Sultan Ibragimov, a decent heavyweight fighter, where does he go from here? Back to fighting trial horses and journeymen and hoping that he will again be called upon when a fighter pulls out of a championship bout due to injury? And don't forget, Holyfield doesn't simply want to win a belt he wants to unify the title. He wants all the belts and refuses to retire until he accomplishes this unreachable goal.

Holyfield will turn forty-five next week. Forty-five is ancient for any professional athlete let alone one who takes punches to the head and Holyfield has been fighting professionally since 1984. But mention to Holyfield that he should do himself and boxing itself a favor and the four-time heavyweight champion becomes surly.

After losing the decision to Ibragimov, Holyfield said, "The important thing is I showed improvement and adjustment in the fight. He got the decision and I have to go back to the drawing board."

Obviously Evander has no intention of calling it a career, despite the fact that he lost by scores of 118-110 and 117-111 twice. That very stubbornness that served him so well during his career is dragging him into treacherous territory now.

Because Holyfield was such an exciting and inspiring fighter people feel the need for him to walk away now. Nobody wants to see any fighter get hurt but Holyfield is a legend and his current situation is bad for the sport should he begin to degenerate in front of our eyes. Boxing doesn't need another Muhammad Ali reminder of how dangerous the sport is, particularly if you hang around too long. That one colossal example was enough.

Ibragimov's trainer Jeff Mayweather shook his head when asked about Holyfield's future. "If he couldn't get past this shot, it's time to walk away," he opined. "It's time to call it quits. He's won the championship four times already. What's left to prove? The reality is boxing is a young man's sport. He's got his money. Walk away with some of your faculties. He's been in so many wars eventually something bad will happen if he continues."

After the defeat to Ibragimov, Holyfield's record dropped to 42-9-2. With each successive loss he tarnishes the achievements of his past. The losses don't erase those legendary nights in the ring with Riddick Bowe, Mike Tyson and George Foreman or that first championship he won from Dwight Muhammad Qawi in a 15 round war for the cruiserweight title in 1986, but they certainly don't add any luster. They just make you wish he would stop.

Holyfield's trainer Ronnie Shields was hesitant when asked what the fighter should do. "I don't know. I don't know what he should do right now," he said, choosing his words carefully. "I think he should take some time and think about what he wants to do. I can't make that decision for him."

Ultimately the decision remains with Evander, as it should. And it would appear that the aging warrior will continue to fight on. "I'm not an easy fighter to beat," he said after leaving the ring. "He was able to follow a good game plan. I thought he was going away from his plan when he was getting ready to slug with me, but somehow he changed his mind and got back on the outside."

Holyfield paused and then added, "I just have to get back in line again."
---
Julio Diaz Quits; Evander Holyfield Doesn't Know How To!

by James Slater: One of the weekend's big world title fights, the one at lightweight, between Juan Diaz and Julio Diaz, surprised me. The other, at heavyweight, between Sultan Ibragimov and Evander Holyfield didn't. Nor did what the loser had to say afterwards. The Diaz-Diaz fight surprised me in that the tough and capable Julio Diaz, the IBF 135 pound champ, wound up quitting on his stool after eight rounds.

While neither the Ibragimov-Holyfield fight or its aftermath shocked me in the slightest. Okay, I did feel Evander had a shot at winning a decision, the fact that he failed to do so was no upset, however. "The Real Deal's" post-fight comments came as no surprise either. That the sadly more disillusioned than ever former great cannot see that time has long since been called on his majestic career is, unfortunately, something we have all come accustomed to. Holyfield simply will not do the sensible and decent thing and retire.

As such, it looks extremely likely that he will be permitted to fight again and run the risk of losing yet more of his rapidly diminishing brain cells. As one boxing magazine writer said recently, maybe the only way to get Evander to stop boxing is for the fans to boycott his bouts and just stay away from the arena when he's fighting. The fact that Holyfield went the distance against WBO champ Sultan Ibragimov, in a fight in which he was never really badly hurt, makes it unlikely that his licence will be revoked as it was back when he lost to Larry Donald. It's hard to prevent a man from fighting when he is, to a degree at least, still somewhat competitive. Also, Evander remains a huge name in a fairly shallowly talented weight division. Let's face it, the soon to be 45 year old is going to fight again, it's almost a one hundred percent guarantee.

As for Julio Diaz and his capitulation, no-one is going to come down too hard on him for doing what he did, surely. He fought a game fight up until the sudden ending, but in his unification clash with rival champion (WBA and WBO) Juan Diaz, he was facing a man who would not take no for an answer. "The Baby Bull" threw punches he knew would get the desired result, his
absolute belief in them being as resolute as "The Kidd's" decision, upon recognising this fact also, to quit before simply taking more. Juan Diaz completely knocked the fight out of the older man, that's all there was to it. And when a man cannot fight anymore - at least to the point where he truly believes he can win - the sensible thing for him to do is bale out before getting yet more hurt put on his body and brain. No-one is applauding a quitter here, obviously, but at the same time doing the sensible thing is no bad thing. Julio Diaz clearly understands this way of thinking.

If only Evander Holyfield would somehow wake up from his stubborn dream of becoming a world champion again - an undisputed one at that - and think this way too.
---
Holyfield Loses Decision To Ibragimov
By Matthew Hurley: Evander Holyfield lost out on his bid to win a fifth heavyweight title belt in dropping a lopsided unanimous decision to the defending WBO champion Sultan Ibragimov. The final scores were 118-110, 117-111 and 117-111.

Ibragimov remained undefeated while Holyfield, who turns 45 next week, fell to 42-9-2.

Holyfield came out aggressively in the early rounds and managed to momentarily stun Ibragimov with a right jab at the end of the second round. But as the fight progressed Holyfield's forward momentum began to slow and the crafty Russian began to pick his punches, landing economically. In the sixth round Holyfield's punch output slowed considerably and the champion took advantage with hooks and carefully placed counter shots.

By the ninth round Holyfield seemed a spent force as he backed off onto the ropes, unable to pull the trigger and unable to keep Ibragimov off of him. With two minutes left in the 11th round Ibragimov connected with another right hook that sent Holyfield to the canvas. Holyfield gathered himself and got to his feet but fought the remainder of the round in retreat. In the twelfth round Evander tried to mount a vain comeback but he couldn't muster enough energy to sustain an attack.

This was the first loss Evander has suffered in his last five bouts since this latest comeback. Holyfield has maintained that he wants to unify the titles before he retires, a notion that many have found either grandiose or pig-headed. Whether or not he accepts his fate will probably be superfluous because it will be hard to envision the aging fighter ever getting this close to a title shot again. Indeed he was a substitute in this bout and really only got the shot because of his name.

Ibragimov, 32 years old, will now campaign to unify the titles.

It would be nice to see Holyfield call it a career after this fight and retire, thereby beginning the five year countdown until he can be voted into the boxing hall of fame. Holyfield has yet to decide what he will do in the future but his stubbornness may well convince him to continue this desperate attempt at regaining past glories. He tried admirably in this last run against marginal competition and it didn't work out. He has nothing left to prove. He should retire.