Wladimir Klitschko Wins But Still Lacks "Something"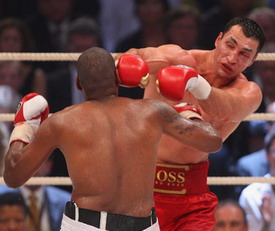 By Bill Calogero -- click here for Klitschko-Thompson photo gallery -- Wladimir Klitschko (photo: www.klitschko.com) knocked out Tony Thompson at 1:22 of the eleventh round in another questionable performance retaining his IBF, WBO & IBO Heavyweight Titles Saturday night. The bout was broadcast live on HBO from the Color Line Arena in Hamburg, Germany.

In what was a one-sided fight, Wladimir Klitschko used his pawing jab, followed by his powerful right hand to methodically break down Tony Thompson en route to a not so exciting match-up.

Until the end of the bout, it appeared that Thompson was able to withstand Klitschko's best shots. The problem was that he (Thompson) simply was not throwing enough punches and when he did, there was absolutely no snap or power behind them.

In the first round, Thompson won the round on my scorecard by landing several solid lefts that landed flush on the face of Klitschko. His awkward style seemed to bother Wladimir and at the close of the round, I for one was beginning to think that this could be the upset most fans, including myself, were hoping for. Unfortunately for me, it was Thompson's only round he would win on my un-official scorecard.

For the remainder of the fight, Thompson appeared to be a sparring partner and look to survive the fight, rather than mount any type of attack or even throw meaningful punches. Even though Thompson's performance was strictly to help him survive, Wladimir Klitschko failed to dominate in an exciting manner.

Wladimir was able to throw and land his right hand all night but seemed to be open during most of the fight. Thompson's failure to capitalize on this was Klitschko's main advantage and helped him secure the win. Wladimir Klitschko improves to 51-3 (45 KOs).

Tony Thompson earned the biggest payday of his career, bringing home $500,000, while dropping his record to 31-2 (19 KO's). When he gets a chance to review the tape, I am sure he will regret not capitalizing on a legitimate opportunity of beating the, in my opinion, very over-rated Wladimir Klitschko.

Wladimir Klitschko had a brilliant amateur career. He is a two-time World Heavyweight Champion and currently holds three World Titles and is the closest Heavyweight we have to a Unified Heavyweight Champion Of The World today.

Why is it then do I (from my dealings and or conversations) and so many others believe that Klitschko is not what we truly want as our Heavyweight Champion Of The World?

He certainly has the pedigree. As a pro, he has fought everyone put in front of him and for the most part, has not dodged anyone. He has come up off the canvas to win. He has avenged his loss to Lamon Brewster and has fought over 20 of his fights against either Top-Ten World Ranked fighters, World Title Challengers and former or current World Heavyweight Champions. He always comes to fight in great shape. He is a "good" guy. He does great things for the community. He is intelligent. He is good looking. He is marketable.

Then what's the problem?

In my opinion, what Wladimir is lacking is the simple fact that he is not a "character". Muhammad Ali, Joe Frazier, George Foreman, John L Sullivan, Jack Johnson, Mike Tyson, Sonny Liston, to name a few, were all characters. They were World Heavyweight Champions that people related to for some reason or another. They were fighters that people either loved or loved to hate. Some did good things, some did bad things, some did crazy things or did things for a purpose, but anyway you looked at it, all people, not just "boxing people" knew who they were and what they stood for.

They were the Heavyweight Champion Of The World. They were the toughest man on the planet and most people, regardless of their race, religion, age or status in society, could relate and follow these past greats. When these types of Champions held the most sought after title in the World, EVERYONE could tell you who the World Heavyweight Champion was. How many non-boxing people can tell you that Wladimir Klitschko is the closest man we have right now that can or should be labeled "The Heavyweight Champion Of The World"?

Wladimir is missing "something". He is not the best fighter out there. After watching his fight with Thompson, I for one am convinced that most heavyweights out there right now, in the top five in ANY of the four major sanctioning bodies, can beat him. He does not come across as being un-stoppable. He does not come across, as being over powering, when based on his size and athletic ability, should be. He is not a guy that puts "fear" in other fighters, nor does he get the buzz around him as did past World Heavyweight Champions.

Although Wladimir Klitschko has plenty of character, he is not "a character". I believe that this is the biggest reason he does not have nor received the recognition that he may deserve. Then again, I for one think he is extremely over-rated. I think he is just "holding" onto the titles until the real World Heavyweight Champion Of The World" emerges. Who, when and where that will be, is still anyone's guess. Hopefully, Wladimir is NOT the best out there because if he is, the Heavyweight Division is in trouble for a long time.

I am VERY curious to hear feedback on this. I want to know what you think. Let me know if I am wrong, right, or better yet, I want to know what you think the problem may be. I encourage anyone who cares to voice his or her opinion to drop me an email at Billy@TalkinBoxing.com.

And while you are at it, am I the only one who thinks it's about time, and long over due that Larry Merchant retire…for real? Does he make any sense anymore?
---
Wladimir Klitschko is obviously the "true" heavyweight champ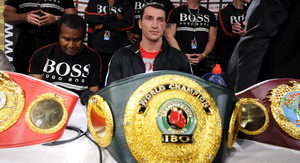 By Jason Peck, photo courtesy of Klitschko.com --What else do they need this guy to do? Walk on water?

His older brother Vitali had honors thrown at him for losing to Lennox Lewis. Anyone else's status as undisputed champ would be beyond question if he accomplished what Wladimir Klitschko did on Saturday night. Stack Wlad's last six opponents against any other pretender, and it doesn't come close.

Am I a Ukrainian kiss-ass? A Klitschko diehard? A "nut-hugger"? Hardly. I've merely taken a rational look at a very simple issue..

All right. So you've got this weight division where one guy holds half the belts, and consistently dominates quality opponents – including one of the other belt-holders (that's you, Sam Peter). Everyone else is either taking mediocre challengers, or barely fighting at all.

Doesn't sound like brain surgery, does it? In fact, there'd be no disputes if this weren't the heavyweight division. But the wide gulf between Wladimir Klitschko and the other heavies is beyond doubt, and painfully obvious.

It's time to face facts. At the time I write this, Klitschko has done more than enough to prove himself as the mythic "true" champion we've been waiting for since Mike Tyson's comeback ended up on the receiving end of Lennox Lewis's jab. Wlad is better than the best of a bad lot.

Whatever "true" means. I'd like to point out that Larry Holmes was merely regarded as a substitute until the next Ali came along. He wasn't loud and he wasn't flashy. But he got the job done, and I defy anyone to say Holmes wasn't Ali's true successor. And few deny that Lennox Lewis was "true" either because of a very simple reason – he won big fights and stood above everyone else. That's what Wlad is doing.

All right then – who compares to Klitschko today? I hear this guy getting bad-mouthed up and down the boxing media, but no one's ever given a good answer. One pundit even claimed that any fighter in any sanctioning body's Top Five could beat him.

What nonsense. He's already beaten a lot of those guys.

Sam Peter? Nope. "Peter-Mania" died when the Nigerian's potential ran out, and few honestly believe Peter would win the rematch. Nicolai Valuev was never given a chance. Ruslan Chagaev has become a non-entity. Go past that, and you hear half-hearted whispers of David Haye and Chris Arreola. But they've yet to be convincing.

With every fight, Klitschko proves that he's the best out there. He's the only one ruining unbeaten records. He's the only man scoring the KOs we expect. He's the only guy taking on the fighters everyone else avoids. In fact, he's the only one I see surviving in the heavyweight division's last Golden Era, when prime Tyson, Holyfield and Bowe ruled the roost.

I don't need Klitschko to collect more belts, and I don't need the Ring Magazine's blessings. I can't believe people still spout nonsense about uncertainty and confusion.

His detractors don't have to like the fact that he's clearly in charge. That's all right – this is a competitive sport, not a popularity contest. But time after time they've laid down challenges that Wlad had to meet before they'd take him seriously. And he met them.

They said he would never survive Sam Peter. Instead, he dominated the fight. They said he would never hold a title belt again. He won two (since I refuse to acknowledge the IBO). They said he wouldn't mean squat until he avenged his loss to Lamon Brewster. Well, he did that too.

Alas, those three knockout losses smudge his resume. Never mind the fact that he's improved his style and covered up his chin. Never mind that all three losses were huge upsets. Once a loser, always a loser. Right?

But why shouldn't those losses mean more respect? Boxing history is full of Olympic medalists who lost their hearts after an embarrassing professional loss. But that happened to Wlad three times, and he climbed back from each. How many other fighters have that kind of heart?

It's just baffling. It's gotten to the point where we could be looking at an actual great, and the same complaints will never cease. I admit it – I mocked Wlad when he was out on his back, just like everyone else. But I can admit that he proved me wrong.

Will Wlad get knocked out again? Will his title reign last for years? Will he one day walk beside Ali, Marciano and Tyson in Valhalla?

What do you think I am, a goddamn fortune cookie? And when does someone have to be the best of all time before he amounts to anything? If you don't like Klitschko, too bad. The Hall of Fame talk waits until years later.

After all, time will tell. So why should I?
---
Wladimir Klitschko Puts the "Tiger" to Sleep in Eleven!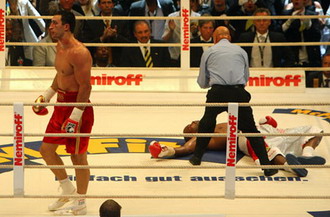 By Jason Sardelis, photo courtesy of klitschko.com - July 12th, Color Line Arena in Hamburg, Germany heavyweight champion Wladimir "Dr. Steelhammer" Klitschko 51-3, 45 Ko's defended his IBF,WBO and IBO titles with a long over do right hand on the chin of former sparring partner Tony "The Tiger" Thompson 31-2, 19 Ko's. Thompson ,cool and calm like the "king of the jungle" won the first round with Klitschko again appearing uncomfortable facing a southpaw. Klitschko was slapping down Thompson's punches as he did in February against Sultan Ibragimov.

In the second round "Dr. Steelhammer" started to find his right hand, then Thompson landed a good left and the two clashed heads cutting each fighter over the right eye.

Rounds three and four were more of the same Klitschko pawing the "Tigers" jab and firing his big right. The crowd came to a roar on every Klitschko power punch, whether it scored or not. In round four Thompson began to attack the champion's body with Klitschko still looking to drill a right through Thompson's high guard.

In the middle rounds Klitschko would answer Thompson's body shots with some of his own which opened up some more room for that big right hand.

By now Thompson began to look more like a pussycat than a tiger. His punches lacked any pop he never appeared to just let it go. In the latter third of the fight Thompson had clearly adapted the sparring partner mentality continuing to look to referee Joe Cortez for help and stalling after a tangled fall to the canvas.

In round eleven Klitschko unloaded a perfectly timed right catching the "Tiger" like a "Siegfried & Roy" sedative shot dropping the challenger to the canvas. Referee Cortez began the count while Thompson struggled to his feet but called it at 1:22 of round eleven when the "Tiger" began to teeter.
---
Klitschko Hammers A Slow Tony Thompson To Defeat in 11 Rounds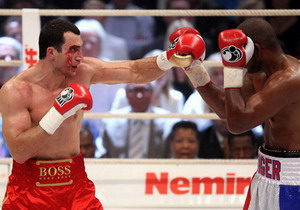 by James Slater, photos courtesy of klitschko.com: Tonight, in Hamburg, Germany, IBF and WBO heavyweight champ Wladimir Klitschko turned back the challenge of the durable but ponderous Tony Thompson in 11 rounds. A big right hand to the head sent the 36-year-old challenger down, and referee Joe Cortez counted "The Tiger" out in the act of rising. The official time was 1 minute and 38 seconds of the round.

Klitschko, while being pretty much in control throughout, was his usual safety first self. His left jab was not thrown with the commanding authority it could have been, and had he gone for it, the finish could've come a few rounds sooner at least. Or so it appeared. Sure, Thompson has a good chin and he took a number of hard shots well enough, but the challenger was no way near elusive enough. Presenting the 32-year-old champ with an upfront, easy target, the southpaw from Washington D.C was almost a sitting duck for straight punches at times.

Thompson got off to a reasonable start, winning the first round on this writer's card. And in the 2nd an accidental clash of heads left both men cut over the right eye. "The Tiger" also managed to get his right jab off to good effect at times in the earlier rounds. Indeed, "Dr. Steel Hammer" soon had a reddening underneath his left eye - courtesy of the challenger's jab.

But before too long Klitschko fully demonstrated his dominance and the fight was all but knocked out of Thompson. Major distress signals were being given by the 36-year-old by the 10th round - as after the two clattered heavily to the mat following a messy fall Thompson did not seem to want to get up. It was clear he was all but done.

Sure enough, the end came in the following round, as a big right hand to the head sent Thompson to the floor. Rolling over while clutching the side of his head, the challenger was badly hurt. Struggling to get back up, Thompson was counted out in the act of rising by Cortez.

In the end, Thompson proved to be something of a disappointment, even though he took a number of hard shots without buckling. Klitschko had a very easy target in front of him, and as soon as Thompson got tired his desire began to fade. However, Wladimir, without doing anything too spectacular, once again proved he is the best of the current heavyweight champions.

In retaining his IBF and WBO belts, Klitschko improved to 51-3(45). Thompson fell to 31-2(19).