Is Vitali Klitschko's victory good for the heavyweight division?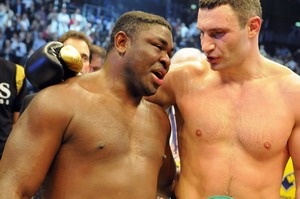 by Mark Gregory , photo by Y.Nesterenko / Klitschko.com -- Klitschko-Peter Photo Gallery -- On Saturday night, Vitali Klitschko didn't just beat Sam Peter to regain his WBC heavyweight title, he totally outclassed him. Not since Joe Calzaghe's clinic against Jeff Lacy in 2006 have I seen such a sustained and one-sided beating in a contest between two elite level fighters. Such was the constancy of Vitali's stiff jab and occasional right hand landing on Peter's increasingly swollen face that after 8 rounds of it – all of which were won by Vitali, in spite of one judge's charity – the Nigerian Nightmare quit on his stool.

On the face of it, having a heavyweight champion who can actually box can surely only be a good thing. The current batch of heavyweights are, rightly or wrongly, much-maligned by fans and pundits alike.. The very fact that a fighter as obviously limited as Sam Peter, who seemingly didn't know enough to slip a single jab, was able to win a version of the world title is seemingly testament to the fact that this is hardly an inspiring crop of fighters plying their trade in the sport's marquee division. Without wanting to be harsh on Peter, who is better than he showed on Saturday, I am struggling to think of another decade in which he would have stood much of a chance of getting a shot at a world title, let alone actually win one.

So now the older Klitschko brother is back we have a champion that has a very good, if somewhat predictable, jab and who carries a serious dig in the right hand and left hook. What's more, Vitali has an excellent chin. He has never been down as a pro and took some of Lennox Lewis' best shots without tasting the canvas. In spite of quitting with a shoulder injury against Chris Byrd (one of only two losses on his record), it is also hard to question the man's heart. He was outraged when Lewis was given the TKO win over him after sustaining a truly horrific cut, and in spite of the fact that Lewis was starting to land big shots with increasing regularity, Vitali wanted to carry on and build on what was a very good start to the fight for him. He earned more credit in defeat that night than any of the current crop of heavies has ever earned in victory.

On top of all his in-ring attributes, Vitali is also a likeable character outside it. Like his younger brother he is well-mannered, articulate and intelligent. He also has just a hint of a nasty streak running through him; a temper that doesn't flare up often but when it does you wouldn't want to get in the way (just look at him after the Lewis stoppage, or after his brother had been brutally stopped by Corrie Sanders). In this respect his appeal is probably more universal than Wlad's, who for some is just a bit too nice.

So why is it that in spite of all the positive things there are to say about Vitali Klitschko, I still cannot help but feel a little empty after his demolition of Sam Peter? Perhaps it is because Vitali has exposed just how poor the current state of the heavyweight division is. After all, he was coming off a 4 year lay-off which had been characterised by a succession of serious injuries. He should have been made to look rusty. He should, at least, have had to go to the well to pull out a victory. Instead he won every minute of every round without even having to break too much of a sweat. And this was against a reigning world champion and consensus number 2 fighter in the division, not some bum who had been handpicked to ensure that Vitali looked good on his comeback. That the fight was never competitive is certainly one reason why it left me feeling a bit flat, but it is certainly not the main reason.



Klitschko/Peter Post Fight Press Conference:




The main reason that Vitali's victory left me with a sinking feeling is that it just leaves the division in what seems like an endless state of limbo. Why? Well, for one thing Vitali will not be around forever. With his injury record and advancing years I certainly cannot see him boxing for more than 2 years at the most. When he retires we are likely to find the division bereft of talent once again. But again, this is not the main reason for my sense of deflation. The main reason for my sense of deflation is that Vitali's victory removes the possibility of a genuine championship line being established in the heavyweight division.

Since Lennox Lewis retired in 2003 the heavyweight division has been lacking a genuine champion. Initially we had the likes of an old Holyfield, Rahman, Byrd and Ruiz scrapping it out for supremacy without any one of them ever looking the part or ever showing any sign of being able to unify. Since then we have seen the steady domination of the Eastern Europeans, most of whom bring sound technique but little in the way of excitement. In the years since Lewis' retirement, the younger Klitschko, Wlad, has recovered from a couple of major setbacks to find himself at the head of the pack. He has shown some ambition to unify and holds two of the titles, the first fighter to do so in more than half a decade. Though his position as the division's best is not undisputed, no other claim appeared particularly strong. It even looked for a while as though Wlad would look to go on and unify all four titles and once and for all restore credibility (and a genuine championship line) to the division.




Klitschko Post Fight Press Conference (In German)




With Vitali's return all of that hope is gone, at least for now. Why is that? Well, quite simply the brothers will never get in the ring with each other, and who can really blame them? Vitali's return raises questions once again about who is the man in the division. Whilst Vitali does not have the polished technique of his brother he is more than his equal for size and, crucially, Vitali does not have the massive question marks about the quality of his chin hanging over his head as his younger brother does. It is my humble opinion that if the two were to meet that Vitali would stop his brother somewhere in the middle rounds. It is not, however, the purpose of this article to discuss the hypothetical match up. It is the purpose of the article to point to the fact that it is one hypothetical match up that will never happen, and not – as is usually the case with hypothetical match ups – because one or both of the fighters are retired, but because they are family and their family bond is more important than their careers.

In essence what this means is that the division will remain fragmented until one or both of the brothers loses. If Vitali follows through with his plan to unify the WBC and WBA titles then the Klitschko brothers will have all four belts. In any other scenario a fight between the two would be inevitable, and we would have a genuine undisputed champion. In this unique set of circumstances, however, this simply cannot happen. And however you dress it up, that can only be bad for boxing, and for the heavyweight division in particular.


---
Peter Quits Against Klitschko, Dawson's Speed too much for Tarver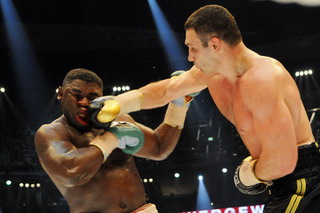 - By Paul Strauss: This was one night when "Two + Two is actually One Sided". Vitali Klitschko fought tall, like the giant he is. He kept his hands low, especially his left, which enabled him to throw left jabs, hooks, shovel hooks, uppercuts, etc, from many different angles. Samuel Peter remained relatively stationary, which allowed Vitali to take target practice. Every time Peter would tense up to unload, he would find that Vitali had already moved out of range. Or, at other times, when he tried to rush into range, he would run into a Vitali right, plus a few more lefts thrown in for good measure.

It would be accurate to say that Vitali looked very good, especially after such a long lay off, and that Peter looked lethargic and frustrated. Vitali made the fight, and Peter helped him do so by cooperating with Vitali's game plan. Right from the beginning Peter was rocked, and the process continued with each and every round, so much so that realistically Peter did not win one round..

As the end neared, both of Peter's eyes were swollen, and it was obvious that he was incapable of mounting any kind of sustainable attack. His head was immobile, his guard dropped, and he was pushing his punches. Vitali was obviously enjoying himself with this sitting duck. Peter wasn't, so he quit after the eighth round.

During the post-fight interview, Vitali was understandably non-committal about what he thinks is in the future for him. He wants time to enjoy his well earned victory, and compare titles with
his brother Wladimir. It's seems a sure bet they will not be fighting each other. Vitali & Valuev could grow their own beanstalk, and capture the goose that laid the golden egg. Now wouldn't it be interesting to see those two giants in the ring. They would need one equally as big as the ring used tonight, in which the Russian Hockey team could have skated.


Dino Duva says it simply wasn't Peter's night, and that he will be back. Duva made it sound like Peter's corner recognized that fact, and that they convinced The Nigerian Nightmare to end the terrible dream. However, I wonder if all the lumps he sustained, coupled with the open scoring might not have been responsible for the shaking of his head side to side and the mumbling that he didn't want to go on? It will be interesting to see if Peter's confidence has been shaken after suffering his first stoppage. The old psyche, you know.
The Dawson vs. Tarver fight was not quite has one-sided, but only because Tarver has a better defense that Peter. Plus, Dawson is not a big puncher. However, the volume punching belonged one-sidedly to Dawson. He was just operating in another gear. The only rounds he lost, he probably just gave to Tarver, because he was resting. He is a beautiful fighter, who throws eye-popping combinations. He has a good defense and moves well, but his punches to lack the kind of power that punishes opponents. His punches are more for show, but a good show.
Specifically, after the fight, it was evident Dawson was marked up (not badly mind you), but Tarver was not. The volume of punches thrown and landed by Dawson should have caused more damage. Seemingly, Glen Johnson was able to mount such an effective fight against Dawson, because of that lack of punching power. However, as fans know, speed is many times "just the
ticket
". Many great fighters didn't have and didn't needed knockout power to win. They kept on winning without it.
Floyd Mayweather, Jr was at ring side, and he was quoted saying he thinks Dawson is now the best P4P fighter. (Does his promotion company have or hope to have Dawson under contract!) Tonight, "Money" was right. Dawson scored a one-sided UD over Tarver.
Tarver might have came away with a couple of rounds, but that only seemed to be, because Dawson was taking a breather. Tarver was winning the eleventh, but suffered a flash knockdown, as the result of being off-balance just as he got caught a glancing right hook off the side of his head. Tarver argued it was not a knockdown, but referee Jay Nady explained his glove(s) touched the canvas, so he had no choice. So, that turned the round in favor of Dawson.
In between the eleventh and twelfth, trainer Eddie Mustafa Muhammad told Tarver he needed a knockout to win. Tarver understood, and tried to mount an attack, but there was that "speed thing" rearing its ugly head again. Tarver just could not match Dawson's speed; nor, could he properly time Dawson's punches to set up a counter. The one-sided loss might be his last big payday!
---
What Has Happened To Our Heavyweights?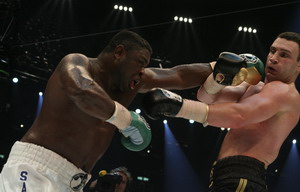 12.10.08 - by Bill Calogero, TheDailySports.com - Photo by Sumio Yamada -- After retiring as a Champion, a four year layoff and a plethora of injuries, Vitali Klitschko became the new WBC Heavyweight Champion last night from Berlin Germany after the former champ, you know, the guy who came into the fight AS the Champion, refused to get off his stool prior to the start of the ninth round of the scheduled twelve-round contest. Vitali joins his brother as the owners of four of the five major belts that define the World Heavyweight Champion(s). This is the first time in history that two brothers own pieces of the title at the same time. Together, they now currently hold the IBF, WBC, WBO and IBO Heavyweight Titles. The only one they do not have is the WBA, which is currently held by Valuev and Chagaev, but that's another story. I say great, for "them". As for the state of the Heavyweight Division, all I can say is "What has happened to our Heavyweights?."

Being the Heavyweight Champion Of The World used to represent being the top fighter in the world. The baddest man on the planet. The number one guy. I'm afraid that we can't say that anymore. What's worse is that our current crop of Heavyweights doesn't seem to put value on the title; at least the way I feel they should. It's all about the money, which I can understand, but somewhere along the line when you decide to become a professional fighter, the Title Itself has to have value. The Title Itself has to drive you to win and be the best you can be.

For instance, how could Sam Peter travel all the way to Germany, go through everything he has in terms of being side-stepped, coming off the canvas to win against a journeyman fighter and then ultimately wining the belt from an aging fighter, and then seem like he was not prepared to fight? How can this happen? How does a fighter, who is known for his power quit on his stool because he feels he can't win? Does this sound like a World Champion? What about his "team"? Did they help prepare him for this fight? They all knew that he would be fighting a bigger guy. They all knew he had to get in there and bang the body and try to land his powerful right hand. Ultimately, don't you think they all knew that at some point, Peter would have to fight with urgency? Am I Right? Am I missing something? Does this sound like a World Champion fighter?

No it doesn't. It sounds like a pretender. I have lost all respect for Sam Peter. He is nothing but a built up fighter that we as boxing fans hoped would "do us right" by being the Champion the division truly needs. Instead, we got a guy that took a trip to Germany and the paycheck and decided to pack it in after the eighth round. I can't describe it in any other way except that it was total bullshit. What a disgrace to the Heavyweight Division and all of the great Champions of the past that the title represents. What a slap in the face for the greats like Ali, Frazier, Foreman, Marciano, Charles and Joe Lewis. All of these and many more fought at their best. They refused to lose and fought like they cared for what was at stake. Sam Peter is a bum. The worst part; He is not alone.

A lot of our young Heavyweights that are in the rankings today are not promising either. They don't seem to take their position as a World Ranked Heavyweight the way at least I feel they should. Take Chris Arreola. In his last fight, he was almost thirty pounds overweight. This is a guy who many regard as a future world Champion. Really? When I think of a young guy on his way up, I have to think that discipline HAS to be part of his regiment. Arreola clearly does not think that way. NO ONE in the Heavyweight division should be taken lightly; therefore, Arreola is not the guy either.

Look at the rankings. How can Brian Minto be in the mix? Who has he fought lately? At least he IS busy. Rahman? Why is he even still fighting? Golota? He is over 40 and won't last with either of the Klitschko brothers. Haye? All he has proven to me so far is that he has a big mouth. At least we will see how he will fair soon enough with the Heavyweights when he finally steps in with one in Monte Barrett. The only young Heavyweight out there that seems to be disciplined enough and has the size and speed you need to be successful in the division today is Kevin Johnson. But the problem there will be the simple fact that no one will fight the guy. Like I always say, "Everyone wants to fight, but no one wants to fight anybody." How true.

I am not taking a thing away from Vitali Klitschko. I give him all the credit in the world, but to be totally honest, if the Klitschko brothers are truly the BEST Heavyweights in the world, then we might as well start choosing another weight class to represent the baddest man on the planet because although they may own most of the belts, neither is an example, at least in my opinion, of being great fighters. To be honest, they are boring. But, like Al Davis of the Raiders always says, " Just Win Baby" and that, the Klitschko brothers do. Add all the belts, less the WBA's version, and people like me can only complain and hope that someone will come along SOON to bring back excitement combined with talent to the Heavyweight Division. And the most important trait, heart.

Maybe I am totally wrong. Maybe the Klitschko's ARE the best and we (I) will look back at them years from now and wish they were around. I hope not.

All I can say is this: Is it too much to ask that our World Heavyweight Champion(s) be exciting and talented at the same time. Is it too much to ask that they have heart and want to be the Champion ahead of all else? Is it too much to ask that they fight whoever is put in front of them and that he stays active? Is any of this too much to ask from our Heavyweight Champions? Or are we going to be forced to accept over protected bums who soak us for our money, talk smack and quit on their stools?

I love the sport of boxing. I have been involved in the business for over twenty-five years. I love the history of the sport and I love talking about it. It saddens me and makes me sick to see what we as boxing fans are expected to accept.
---
Berlin Beat Down: Klitschko Makes Peter Quit!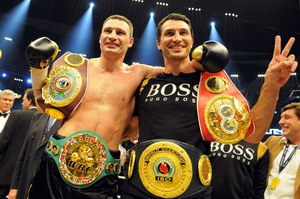 - By Ted Sares - Showing few signs of ring rust after being out of action nearly four years, Vitali Klitschko, now 36-2, won the WBC heavyweight title by forcing Sam Peter to quit on his stool after eight dominate rounds.

The first round (which would be the exemplar for the rest of the fight) went something like this: Peter swings wildly with his left hook and misses continually, while Vitali lands accurate shots from long range, using the jab to set them up in classic fashion. Repeadtedly, he mixes things up by landing sneaky left hooks which knock Peter off balance. It was a great round for Dr Iron Fist.

The speed-challenged Peter inexplicitly continues to fight the wrong fight by boxing the big iron-chinned Ukrainian without trying to get inside where his best opportunities lie. For his part, Vitali used his superior height and reach, and potshots to keep the poorly prepared and uninspired Nightmare at bay.. Peter continued to get rocked by right and combos all night long, and appeared to be on the verge of getting knocked out at any number of times. Klitschko lands multiple jabs and hooks almost at will, while the slow Peter looks confused and in a place where he does not want to be. Whenever Peter finally lands anything over the top or to the body, Vitali is able to move away successfully. It has become a nightmare of a stylistic match up for the massive Nigerian.

With the score card being read over the PA system, Peter undoubtedly was getting discouraged, realizing his only chance was to land one big haymaker. Indeed, maybe he believed he had no chance to land it at all as Vitali wisely moved back and out of range at the appropriate times. And maybe he also realized that an icing was on the way, so it was better to quit and fight another day for another big pay day. He quits on his stool after eight rounds of what can only be described as a "Berlin Beat Down."

Yes, I was wrong about the outcome and yes I surprised by The Champion Emeritus's ability to stop a World champion after being away so long. One can only imagine how good he could have been had he continued fighting after his eight round destruction of Danny Williams in 2004. Hey, maybe he is just what the doctor ordered to put some sizzle into a division that has been on simmer for too long.

As an aside, I think announcing the scores is totally inappropriate and conducive to encouraging fighters to quit in their corner. It's a practice that should be discontinued ASAP.
---
Klitschko Claims Title When Peter Quits On Stool After 8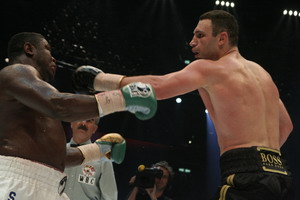 11.10.08 - By Joe Mills -photo by Sumio Yamada -- Vitali Klitschko's three year journey has culminated in his regaining of the WBC Heavyweight championship with an impressive 8th round retirement of Samuel Peter. Klitschko displayed little in the way of ill effects resulting from his lengthy exodus from the ring, barely losing a minute of this one-sided clash.

Vitali entered Berlin's imposing 02 World Arena with holographic renderings of past greats including George Foreman and former foe Lennox Lewis looking on, and while it will take more than this evening's showing to put his name among them he displayed excellent championship credentials in the fight.. If all goes to plan in his second career he could well find his name mentioned in the exalted company of Tyson, Frazier and Holyfield, the other holographic heroes depicted.

It would be redundant to offer a round-by-round analysis of the action as every session followed the same pattern. "Dr Ironfist" kept his jab in Peter's face all night, while the vanquished champion moved in straight lines, unsure of how to overcome his taller opponent. Vitali would tee off with the right hook whenever the opportunity presented itself and his punching looked very crisp for a man making his return to the ring after a lengthy lay-off. Certainly no rust was visible in his performance, except for maybe a touch of open-mouthed breathing in what transpired to be the final round of the fight.

It would be easy to get carried away by Klitschko's dominant showing but the truth is "The Nigerian Nightmare" was incredibly flat this evening, and seemed to be short of ideas right from the opening bell. He tamely stalked Klitschko for most of the fight, only occasionally unleashing a worthy flurry. The round given to him by one of the judges was beyond generous, bordering on Unicef levels of charity. The outgoing titlist's decision to quit was a surprising one but perhaps a wise one as well, he wasn't troubling his opponent in the slightest and cannot be blamed for wanting to avoid further damage. The real damage from this showing however is likely to be on his reputation rather than his health, for a champion lambasted for being limited in the past, this showing could finally put an end to the fearsome aura he built before his fight with the younger Klitschko brother, Wladimir, three years ago.

For Vitali it seems the world is at his feet, he not only reclaimed what was once his, but he realised his dream of being a World champion concurrently with his brother, and looked excellent in doing so. Perhaps a fight with WBA title holder Nikolai Valuev beckons in the future. Both brothers have rebuffed suggestions that they go up against each other in the future, which makes title unification unlikely. The clamour is there, and the money could surely be found, but brotherly love will surely deny us of the banner division's biggest fight. However the division is sure to be a more interesting place now that Vitali Klitschko has returned.
---
Video - Weigh-In: Klitschko 247 - Peter 253,5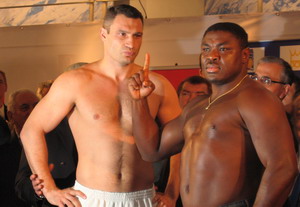 -- click here to view open workout and press conference photo gallery -- Weigh-In photos © eastsideboxing.com - There is no doubt It will be a colorful and spectacular show full of dynamite, at the 02 World Arena of Berlin, when the Nigerian "Nightmare", Samuel Peter, and his Ukrainian rival, Vitali Klitschko, face each other, with the WBC Heavyweight world championship on the line; such title has been held by Peter since he conquered it on March 8th, 2008, in Cancun, Mexico, when he defeated Oleg Maskaev by technical knockout in 6 rounds.

Those who are thrill seekers will have a magnificent opportunity of finding it, witnessing everything that these two giants do. Some will watch them live, whereas others, the vast majority, will do it through the TV broadcast in different parts of the planet, Mexico and the U.S.A. among them.




Peter is young and hungry for money as much as for glory, and that is something that can be added in favor of the African boxer, who got started in professional boxing in 2001, and so far, has shaped a record of 30 wins; 23 of them by knockout, and just one loss, which curiously happened against Vitali´s younger brother, Vladimir Klitschko, who defeated him by decision..

Klitschko was the last universally recognized Heavyweight. Nobody has forgotten his battles against Lennox Lewis, Corrie Sanders, and others; bouts in which he showed why he is, in numbers, the greatest puncher of all times in the Heavyweight division, having 97% of his wins by the always convincing and spectacular KO.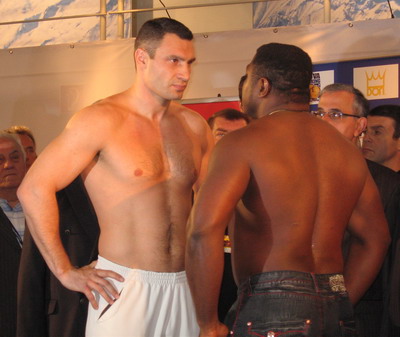 Even though he has not fought for almost four years, there is no way Klitschko will be an easy opponent for the world champion.

The fight is one of the most appealing and interesting shows that can be currently presented in any ring of the world, in any division, and it can nearly be assured that the outcome the fight will come through the way in which these two colossuses are used to winning, a knockout.

Let´s get ready to witness a show that will surely leave a deep mark among the millions of boxing fans there are in the world.



Undercard Weigh-In Video:







Photos below by Sumio Yamada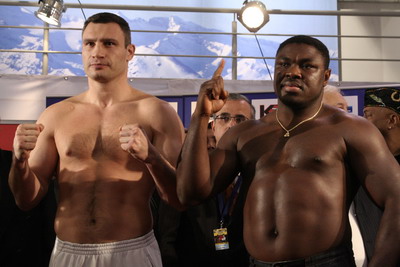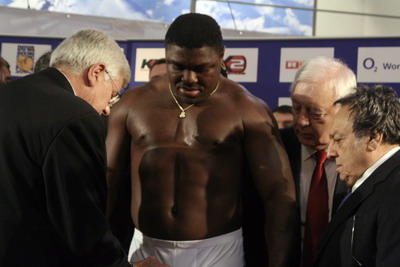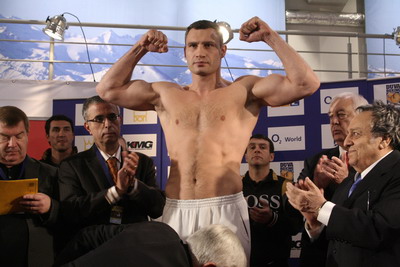 Open Workout Video:







VITALI KLITSCHKO

: "I have already fought for a title twice and both times I won. This is the third time and I will be the winner again.

"On October 11, we will know who will be the true WBC Heavyweight-Champion. I'm in great condition and have had a perfect preparation phase."



SAMUEL PETER

: "Vitali Klitschko is trying to take my title belt from me. He tried to take it out of my hands at the press conference, but I snatched it from him. It is mine!

"He is a phony who is messing with my career and my life. On Saturday, he will be out of everyone's life for good. I'm very well prepared. It will be a great fight"



FRITZ SDUNEK

- Vitali Klitschko's Trainer - Vitali is very prepared. The camp was perfect. He needed four sparring partners during the camp in Austria. Vitali is a veteran fighter. He knows what to expect from his training camp since this is his third time preparing for a world title fight. Sam Peter should be called the rabbit, not because he is quick and fast, but because he throws so many rabbit punches."




Press Conference Videos: